UNITED STATES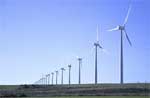 Clean energy technologies are key to the US's future economic prosperity.
US president George W. Bush may not have signed the Kyoto Protocol for reducing carbon dioxide emissions, but with consumers feeling the pinch of high oil prices with conflict in the Middle East disrupting global oil supplies, increasingly his administration sees a link between the country's future economic prosperity and the development of renewable energy—so much so that the Department of Commerce is now weighing in on the debate.
Addressing a Department of Commerce conference on "Powering Our Low Carbon Future" in Washington, DC, in early February, US secretary of commerce Carlos Gutierrez said, "By making meaningful progress toward a low-carbon future, we give our nation the power to grow. Instead of being constrained by access to energy, we can construct a future of unlimited potential."
Gutierrez's comments mark a significant departure for the US administration, which previously refused to acknowledge the impact of global warming and rising carbon dioxide emissions. But with Bush's stimulus package unlikely to revive the United States' flagging economy, all hopes appear to be pinned on the "development of clean and efficient technologies" for fostering economic prosperity. "We need to move away from the false choice that we can only have environmental protection or economic growth, particularly in the manufacturing sector," said Gutierrez. "In fact, we believe we can do both. We are developing policies that move us towards a clean energy future and advance our competitiveness by helping American manufacturers compete in the global market."
Gutierrez said that the US had led the world in software, biotechnology and telecommunications development and that it could lead the way in the development of clean energy technology.
In an effort to reduce the United States' dependence on fossil fuels, the Bush administration has allocated $18 billion to research, development and deployment of efficient energy and clean energy technologies. Congress has signed an energy bill that promotes huge increases in the use of biofuel—although the effectiveness of such moves is hotly debated. An additional $2 billion will be spent over the next three years to create an international clean energy technology fund, which Gutierrez said would leverage private sector capital investments to make clean energy projects more financially attractive.