NEWSMAKERS: GLOBAL
By Luca Ventura
When Robert Zoellick announced in February that he would leave the World Bank in June, at the expiration of his five-year term as president, initial speculation over his possible successor revolved around the usual names: secretary of state Hillary Clinton, treasury secretary Timothy Geithner and his predecessor, Larry Summers.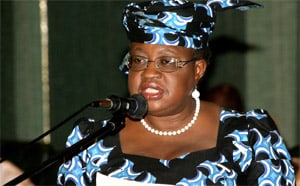 Ngozi Okonjo-Iweala
All of them, quite unremarkably, are Americans—as has been the tradition at the Word Bank since 1946. So, too, is one of the frontrunning candidates for Zoellick's job: ambassador Susan Rice—the US permanent representative to the United Nations.
However, an energetic finance minister from Nigeria—formerly, Zoellick's second-in-command at the World Bank—was brought under the spotlight by the influential head of the Center for Global Development, Nancy Birsdall. "Ngozi Okonjo-Iweala rose through the meritocratic World Bank bureaucracy in the years when doing so as a woman and an African meant you had to be a star," wrote Birsdall. "Most importantly, she is a charismatic and effective diplomat, as well as a good economist."
Since then, Okonjo-Oweala has become a star. Support for Okonjo-Iweala has gained attention from press around the world, with commentators highlighting the powerful backing she would receive from China.
Daughter of a tribal king from the Niger Delta, Okonjo-Iweala, 57, was finance minister of Nigeria between 2003 and 2006, negotiating an $18 billion debt cancellation from the Paris Club and pushing for economic reforms. Appointed managing director of the World Bank in 2007, she returned to Nigeria in July 2011, when president Goodluck Jonathan asked her to overhaul the country's culture of corruption and government overspending.
What's still unclear is how determined the US is to safeguard the post after seven decades with an American leading the Bank—in return for a European at the IMF top spot, currently held by Christine Lagarde.