NEWSMAKERS: UNITED STATES
Obama Administration Continues Export Drive
By Denise Bedell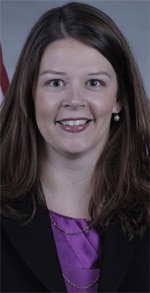 Gregoire: Coordinating
efforts on export promotion
The Obama administration has set a goal of doubling US exports in the next five years and announced the development of the Export Promotion Cabinet and the National Export Initiative (NEI) to coordinate export reform and expansion efforts. In late April the NEI named a director, completed its strategic operational planning and set out guidelines for the Export Control Reform Initiative (ECRI)—one of the steps the administration has outlined in reaching that five-year goal.
Courtney Gregoire, the new director of the NEI, was previously director of legislative affairs for the US Department of Commerce. Gregoire will be responsible to the Department of Commerce's International Trade Administration and coordinate efforts on export growth and restructuring.
The main remit of the ECRI is to simplify the country's export control system by reducing regulatory overlap. The current system has a number of licensing bodies, innumerable enforcement agencies and disparate and disconnected IT systems. Under the ECRI, the export control system will be reduced to a single control list, a single primary enforcement coordination agency, a single IT platform for licensing and enforcement and a single licensing agency. To help increase exports, the US Ex-Im Bank increased its export loan authorizations by 125% in the first half of the fiscal year—to $13.2 billion from $5.9 billion in the first half of 2009.
To maintain a strong global economy going forward, most economists have pointed to the need to reduce global dependence on US consumption and to increase consumption elsewhere to take up the slack—particularly in quickly developing economies such as China and Brazil. Increasing US exports is a key part of that puzzle.
As well as simplifying internal export structures, the NEI aims to ensure foreign compliance with trade agreements and support export growth for small and medium-size enterprises. Observers anticipate that, as the NEI develops its role, it will focus on boosting opportunities for multinationals, too.