NEWSMAKERS: IRELAND
by Gordon Platt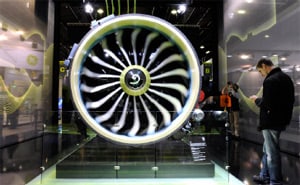 Full throttle: Ryanair powers up its fleet with giant order
Michael O'Leary, chief executive of Ryanair, Europe's largest low-cost airline, stole the limelight at the Paris Air Show in June by signing an agreement with China-based Comac to cooperate on the development of a 200-seat aircraft that could end Boeing's exclusive supply relationship with Ryanair.
O'Leary is keen to introduce a new competitor to the narrow-body-jet market, which is dominated by Boeing and Airbus. He says Ryanair could buy more than 200, and perhaps as many as 400, of the proposed stretched version of Comac's medium-range C919 jet, which is scheduled to enter service in 2016.
Ryanair said it would share its experience and expertise with Comac to help it develop the new aircraft, which would enable the Ireland-based discount carrier to lower its costs and continue to reduce fares. "We are pleased that there is now a real alternative to Boeing and Airbus," O'Leary says. However, the agreement with Comac, which is controlled by the Chinese government, does not commit Ryanair to buy any aircraft.
O'Leary says Ryanair might initially buy 20 to 30 of the baseline version of the C919, which has 190 seats, until the stretched version arrives. "We will commit tomorrow if they meet our requirements," he says.
Meanwhile, the Airbus A320 is being upgraded to the more fuel-efficient A320neo (new engine option). With its fuel savings of 15% over the current model, the neo is putting pressure on Boeing to re-engine the 737, or to come up with an all-new design. O'Leary says he thinks the US-based manufacturer should develop a new aircraft. Ryanair has 272 Boeing 737-800s in its fleet, with firm orders for an additional 40, and is currently in discussions with Boeing about its need to replace older planes.
Malaysia-based discount carrier AirAsia placed the biggest order at the Paris show, buying 200 A320neos worth $18 billion at list prices. That helped Airbus set a record for commercial aircraft sales at any air show, with confirmed orders totaling $72.2 billion.