NEWSMAKERS: ITALY
By Paula Green
Ready or not, as minister of economic development, infrastructure and transport for the newly-formed government of prime minister Mario Monti, Italian banker-turned-bureaucrat Corrado Passera will be honing his political skills this year.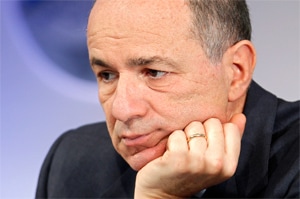 Passera ponders his toughest role yet: growing Italy's economy
The former chief executive of Intesa Sanpaolo will no doubt play a crucial role in the impending struggle to move the Italian government's master plan, "Grow Italy," through the notoriously cantankerous Italian Parliament.
Monti's plan to spur growth has been publicly praised by the center-left Democratic Party, which some analysts say Passera has ambitions to lead. Unveiled right before the New Year, "Grow Italy" aims to foster competitiveness and modernize the nation's outdated infrastructure while liberalizing Italy's closed professions and tackling labor reform.
With his management experience as a company turnaround expert and belief that public debt can be lowered while stimulating growth, Passera seems the right man to walk the country's political tightrope during these economically-troubled times.
An MBA holder from the Wharton School of the University of Pennsylvania and a former McKinsey consultant, Passera turned around the state-owned postal service, Poste Italiane, after assuming its top management job in 1998. He avoided strikes by cutting the workforce with incentives for early retirement and retrained staff as bank tellers while introducing banking services.
The revived postal service logged its first profit in 50 years in 2002, the year Passera left to join Banca Intesa in Milan. He oversaw Intesa's merger with Sanpaola IMI in 2007 and its evolution into Italy's largest retail bank.
While running the holding company of Italian industrialist Carlo De Benedetti in the 1990s, Passera was frequently at odds with former prime minister Silvio Berlusconi, then still just a media mogul. To get his reforms through parliament, Passera needs the support of the country's other main political party, the Democratic Party, which holds lawmakers loyal to Berlusconi, who was ousted last November over the country's economic woes.