BRAZIL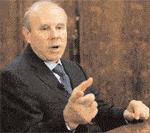 Guido Mantega: Firm

on growth forecast

Brazils trade sector continues to boom despite concerns over an appreciating currency that could make Brazilian products less competitive. Much of the rise has been driven by strong demand for commodities, whose prices remain high. The nations trade surplus hit a record high of $5.64 billion in July, for an annualized increase of 12.8%. Exports rose 19% during the month, to $13.6 billion. Local economists surveyed by the central bank predict the trade surplus will end the year at $41.2 billion.
Domestic sales, however, present mixed results. Retail sales grew by a lower-than-expected 4.1% in June, though some analysts blame fewer workdays and distractions related to the soccer World Cup for the slowdown. Automobile sales, however, rose by a healthy 11.7% year on year in June and 19.5% in July, as falling interest rates fueled purchases. Economists polled by the central bank were still concerned by sluggish domestic sales, for which they revised downward their 2006 GDP growth forecast in August to 3.53% from a previous 3.6%. Finance minister Guido Mantega says the official forecast for 4.5% growth will not be revised.
Activity on the domestic capital markets continues to pick up, with new equity and fixed-income deals launched. CESP, the energy company controlled by the State of So Paulo, raised $1.4 billion via a share offering in August in a deal managed by UBS and Morgan Stanley. Proceeds will be used to pay down part of CESPs $4.7 billion debt. Braskem, Latin Americas largest petrochemicals company, approved the issuance of up to $229 million worth of five-year domestic bonds as part of a plan to reduce financing costs, which also includes a proposed buyback of $275 million worth of bonds falling due in 2008. Autoban, a So Paulo-based highway maintenance company, issued $233 million of non-convertible debentures via Banco Ita.
While the government awaits an expected investment grade rating, which some analysts predict will come within the next two years, Fitch Ratings in August raised Brazils country ceiling to BB+ from a previous BB.

Antonio Guerrero