MILESTONES : PORTUGAL
By Anita Hawser
Sovereign debt in the eurozone is back in the headlines again, with Portugal going cap in hand to the European Union and asking for an emergency bailout.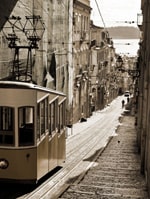 Debt burden leaves little room to maneuver
Having already provided financial assistance to member states Greece and Ireland, the EU is faced with a slightly different situation in Portugal, where a caretaker government is in power following the opposition's rejection of proposed austerity measures by the minority Socialist government, which resulted in Portuguese prime minister José Sócrates' resigning.
Having rebuffed earlier suggestions that Portugal required assistance to finance its debt, Sócrates himself made the plea for help to the European Commission in early April. His climbdown came on the back of a series of downgrades of Portugal's long-term government debt by the major ratings agencies. On April 5, Moody's became the latest ratings agency to downgrade the sovereign's bond ratings by one notch from A3 to Baa1, placing the rating on review for another possible downgrade.
Nigel Sillis, director of research for fixed income, currency and credit at Baring Asset Management, says the Portuguese government must repay approximately €4 billion in April and another €5 billion in June. New parliamentary elections are unlikely to be held in Portugal until June 5, Sillis says, and the EU is likely to be wary about negotiating a multiyear loan with a caretaker government. Caroline Vincent, European fund manager at Cavendish Asset Management, says a bridging loan that could tide the country over until the elections is unlikely to be supported by other eurozone member states.
"It remains unclear whether the Portuguese public is prepared to accept the type of austerity measures it now faces," says Michael Ben-Gad, head of Economics at City University London. Restructuring Portugal's debt may be the next step, but the EU and European Central Bank are anxious to avoid that.