Buying a custom-built finance solution, or commissioning tailor-made add-ons to existing systems, are increasingly real alternatives to buying out of the box.

Getting a custom-built baby is not just the domain of Harley-Davidson aficionados. Nowadays it is also all the rage for finance technology. Satellite firms offering advanced functionality and customized solutions on top of existing large-scale systems have always been around. But as companies have focused more and more on increasing efficiency of all systems, improving integration of disparate systems and consequently pulling value out of all business processes, so has interest in these custom solutions grown.
One of the biggest developments in the role of the finance function in recent years is an increasing focus on developing and managing new technology aimed at increasing process efficiency across the financial supply chain. With limited IT budgets, these executives are tasked with the need to show a convincing return-on-investment (ROI), often over a short timescale. But as the technological desires of large-cap companies have grown, so has the gap grown between what big-name system suppliers offer and what those companies are looking for.
That is where the small but specialized solution provider comes in. The financial technology market has seen a huge surge in interest in the offerings of smaller firms that aim to make existing enterprise applications betternot necessarily by changing those systems but through add-ons and custom functionality to turn those enterprise apps into the solutions that finance executives dream of.
Sanjay Srivastava, chief operating officer of specialist IT firm Aceva, says the development of external firms dedicated to providing custom add-ons to major systems is a natural progression. This has occurred in most other industries, so it makes sense for it to happen in the financial technology market. The breadth of functionality that the big banks and system suppliers are trying to achieve is simply not possible.
Srivastava says that within the enterprise space most enterprise resource planning (ERP) software began by focusing on the physical supply chain. The reality is that ERPs have done a good job on the physical supply chain, but when you turn around and look at the financial supply chain, there are large gaps between what users need and what ERPs provide, he says. Consequently, companies can end up with multiple ERPs managing different functionality across different parts of the organization. This works for the physical supply chain, but for the financial supply chain it does not stand up. Thus, having a custom or at least a highly customizable packaged solution can fill the gaps left by the big names.
This is particularly relevant for large-cap corporations that have active M&A; programs. With many new purchases this generally means many new systems that must somehow come together. This can either happen by rolling out head-company systems to subsidiaries, or it can mean developing complicated in-house solutions to get the various systems to speak with each other. Either way it involves a long, highly complicated and generally expensive procedure.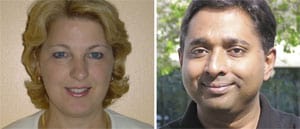 Sue Sadler, Honeywell (left): We can look up 150 different things on an invoice and fix it ourselves

Sanjay Srivastava, Aceva (right): There are large gaps between what users need and what ERPs provide

Honeywell hosts most of the major ERP platforms across their various business units, says Sue Sadler, Honeywells director of cash management. With many acquisitions under our belt we naturally had numerous systems across our organization, she notes. The biggest problem, she explains, was that the information they needed to make good customer decisions resided in different databases that did not speak to each other. We knew what was causing difficulties in our invoicing, but we could not fix them without a huge process involving many different system suppliers, she says.
Honeywell set out to find a solution and discovered that Aceva could provide true customization with all systems. They could pull together all our systemsshipping, manufacturing, forecasting and so oninto one system and give us all the information in one screen, Sadler says. We are able to have a whole information trail as well, she adds. We can look up about 150 different things on an invoice and fix it by ourselves before an invoice is generated.
According to Stephen Blythe, founder of Blytheco, which offers custom add-ons to Best Softwares accounting systems, the size of the organization dictates whether a custom solution is appropriate. Smaller companies tend to want a prepackaged solution, but the larger the corporate the more likely that they will want some form of customization. A mid-size company, for example, will likely want a package that out of the box handles 98% of the functionality that they are looking for. But they want this to follow their workflow needs; they do not want to change the business to suit this piece of software, he says. For a large-cap company the package must mold to the business, he says: Clearly, after that there will be much customization that needs to be done to meet their business model.
Getting that type of customization from the big system suppliers is possible but is generally a colossal task. Every time we wanted to do something group-wide, it was a huge undertaking, and no one system could talk to everything, says Sadler. This is really what drove us to look at Aceva. By choosing an outside firm that could work across the various systems, it made for a relatively painless implementation, she explains.

Denise Bedell