NEWSMAKERS: EUROPE
By Valentina Pasquali
In the European Union, women comprise 60% of university graduates but only about 12% of corporate board members.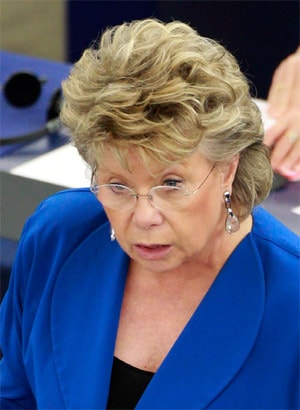 Reding: Tackling red-hot issues such as gender parity
The European Commission has decided to take action to fix this imbalance. Leading the charge is commissioner for justice Viviane Reding. A former journalist and a politician from Luxembourg, Reding, 60, has been in her current position since 2010. She gained prominence in 2007 thanks to her push to lower cell phone roaming charges across the EU.
Last month, after a trial period of largely unsuccessful voluntary commitments by corporations, Reding proposed a directive imposing mandatory quotas for women on corporate boards. "Personally, I don't like quotas," she said. "But I like what quotas do. Quotas open the way to equality, and they break through the glass ceiling." For women's rights activists, Reding, who is affiliated with the center-right European People's Party, is becoming a key interlocutor. "She sees this [issue] as a stepping stone to achieving equality in the labor market," says Serap Altinisik of the European Women's Lobby.
Not everybody agrees. "Quotas actually undermine the principle of equality and are patronizing to women," says Baroness Marie Goudie, a Labour member of the British House of Lords. "Countries with quotas are struggling with genuine equality, and there's evidence that shareholder value can be destroyed if quotas are imposed."
This is not the first time that Reding has put herself at the center of a red-hot issue. In 2010 she exchanged rhetorical blows with French president Nicolas Sarkozy over the deportation of Roma immigrants from France. She has also been the leading proponent of ambitious data protection legislation, which, if approved, would force Internet companies to seek the explicit consent of their consumers before using their personal information.
While praising Reding for the effort to harmonize overlapping country-based privacy rules, Thomas Boué of the Business Software Alliance, a trade association, warns that "regulation that is too rigid and inflexible will not promote privacy goals or compliance but will halt investment and innovation in new privacy protection technologies required for an ever-changing and dynamic Internet."