UNITED STATES


BUSINESS LEADERS GATHER TO TALK TRANSPARENCY

There is a tremendous opportunity buried in almost every single company

in rethinking how decisions are made. Hal Sirkin, Boston Consulting Group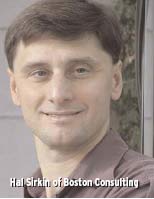 For businesses bewildered by the ever-growing demands for corporate accountability and compliance, help may be at hand. In late July a group of more than 175 executives from companies such as IBM, Intuit,AT Kearney and Verizon launched the Business Performance Management Forum (BPMF), a group dedicated to helping businesses manage and measure their performance.
At its launch the BPMF released a survey on corporate board members attitudes to performance accountability that contained some fairly disturbing revelations. For instance, the study found that 85% of the board members surveyed were anxious about the methodologies and tools used by management to track business performance. Two thirds grumbled that they were uncomfortable with the accuracy of their companys financial business forecasts, although only one third felt they didnt have enough information to ensure appropriate transparency to investors. Jeff Rodek, chairman and CEO at BPMF founding sponsor Hyperion, drew a heartening conclusion from the study:Board members recognize their increasingly significant role in corporate governance.
According to another member of the BPFM board, Hal Sirkin, senior vice president at Boston Consulting Group, the creation of the forum was prompted largely by the Sarbanes-Oxley Act. Business performance, on every level, is an issue that is striking home in many companies, firstly as a result of Sarbanes-Oxley, which is making them step back and think through what their obligations are, he says.It is also causing them to think about how they measure business performanceand how they report it.
Sirkin explains that the BPFM will provide an environment where businesses can share best practices and increase awareness of performance management and measurement techniques. Businesses that get involved will certainly have a range of experts on tap as many of founders and members are in the business of business performance management. And while he admits that there may be sales opportunities for companies in all of this Sirkin takes the high ground:There is a tremendous opportunity buried in almost every single company in rethinking several levels down how decisions are madeand what information is used in making those decisionsto tease out where there is room for enhanced profitability and enhanced growth.This forum is a way to help them do that.
Of course, it will also present a tremendous opportunity for the consultants to boost their own business performance.

Dan Keeler


UNITED STATES


BABY BOOMERS FIND A FRIEND IN ILLINOIS JUDGE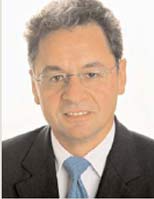 Judge G. Patrick Murphy, 54, of US District Court in southern Illinois sided with fellow baby boomers when he ruled that IBM violated age-discrimination laws when it changed its pension plan twice in the 1990s.
Kathi Cooper, a 53-year-old Illinoisan who works for IBM, is the lead plaintiff in the suit, which has been certified a class action. She and 140,000 other IBM workers and retirees stand to collect larger annuities if their suit succeeds. Armonk, New York-based IBM will appeal the ruling, which it says affects the pension plans of 400 US companies.
Judge Murphy, a Vietnam veteran and motorcycle enthusiast who joined the Marines at age 17, spent most of his legal career as a sole practitioner in rural southern Illinois before he was appointed to the bench in 1998. He ruled that IBM unfairly penalized older workers when it converted its traditional pension plan to a cash-balance plan, in which workers can collect a lump sum when they leave the company. The US Internal Revenue Service declared a moratorium on such plans in 2000 and is rewriting its regulations.
Although IBM stood to save billions of dollars over the years by changing its plan, Judge Murphy says his ruling did not consider whether the company was motivated to improve its bottom line. He says the controversy over cash-balance plans may not be resolved until the issue lands in the US Supreme Court.


Gordon Platt



EUROPE


EURO DEFENSE GIANT TAKES AIM AT US MARKET

Not content with dominating its home markets, the Europe-based aerospace and defense company EADS is harboring some lofty ambitions. Winner of last Novembers Global Finance award for best aerospace and defense company in Europe, EADS is now training its sights on an even bigger target: the United States.
On a recent trip to New York City to trumpet his firms results for the first half of 2003, the companys CFO, Hans-Peter Ring, threw down the gauntlet. We are already well established, says Ring. But we want to grow our business here.
EADS is already the worlds second-largest aerospace and defense company in terms of revenues, with 29.9 billion ($34 billion) in 2002. It is a partner in the successful Airbus consortium and heads the A400M military transport aircraft program. The latter program recently received a significant vote of confidence with a 20 billion order from the European defense procurement agency OCCAR
EADSs top rival, Boeing, may be streets ahead in term of revenuelast years revenue topped $54 billionbut the European challenger may yet be able to carve out a bigger slice of the US market. Already this year, in partnership with rival Lockheed, it has snagged a deal with the US Coast Guard to supply transport planes and mission systems. The company is also hoping to be able to announce soon a major contract for its Dauphin helicopters.
Hopes for growing the business in the US will no doubt be boosted by the news that US military spending grew faster in the second quarter of this year than at any time since the Korean war.
While Ring is keen to get his teeth into the US military aerospace market, he is more wary of the prospects in the civil aviation market. I am concerned about the financial stability of some of the airlines, especially in North America. First they have to recover before they invest in new equipment. I expect that to take quite some time, Ring says. In the meantime, EADS is steering clear of financing its customers purchases. Our risks would be greater if we got into financing, but we are very cautious in financing our customers. That would accumulate risk, which is not a good idea.
Ring is realistic about the companys current prospects: We have a way to go before we would be No.1, he admits. But in a market thats seen more than its share of upsets recently, EADS could be a company to watch.


Dan Keeler



BRAZIL


READY FOR PRIME TIME AGAIN?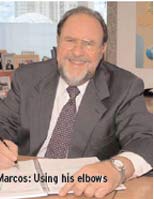 In a sure sign that Brazils major public companies think global investors have finally warmed to President Luiz Inacio da Silva (Lula)s handling of Latin Americas largest economy, they are launching a major investor relations push in both New York and Madrid. Bovespa, the countrys leading exchange, and IBRI, the investor relations institute, are spearheading the move. Referring to the need to mold investor opinions of Brazil, Jos Marcos Treiger vice president (international relations) of IBRI, says, Sometimes you have to use your elbows to make positive things happen.
A New York event on November 17 will be hosted jointly with the New York Stock Exchange, where Brazil ranks third behind the UK and Canada in the number of listed ADRs. Presentations will be made by government officials and company CEOs and CFOs.
So far this year, Brazilian ADRs have been among the top performers on the New York exchange with growth of more than 30% through August 1. The last time the Brazilians attempted something on this scale was in 2001, just days before the 9/11 attacks. Whatever impact they made on investors was quickly overwhelmed by the focus on the terrorist attacks.Treiger expects US portfolio managers and both buy-side and sell-side analysts to be present. Unlike bank-sponsored investor conferences where usually only the sponsoring banks sell-side analysts attend,Treiger expects many banks sell-siders to participate.
The entire Brazilian group will then move from New York to Madrid where a similar event will be co-hosted on November 19-21 with Latibex, the branch of the Madrid Stock Exchange set-up to trade Latin American stocks.

Joseph Giarraputo