NEWSMAKERS: RUSSIA
By Kim Iskyan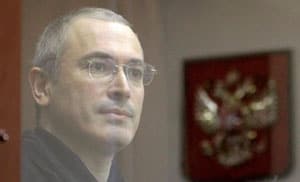 Khodorkovsky: Sentence likely to be extended
After months of wrangling, the verdict on the second trial of Mikhail Khodorkovsky, the former head of Russia's Yukos Oil Company, is due in mid-December. The ex-tycoon will probably be sentenced to six years in a Siberian prison cell, on top of the eight years he's already served. Russia's investment environment will get yet another black eye.
At its peak in the early 2000s, Yukos was a global oil major boasting a market capitalization of more than $30 billion. A darling of the Russian equity market, Yukos had made Khodorkovsky one of Russia's wealthiest men, worth some $8 billion. But Khodorkovsky committed two grave sins in the eyes of the then-president Vladimir Putin. First, he dabbled in opposition politics, and then he tried to sell Yukos—considered by the Kremlin as a Russian crown jewel asset—to a foreign oil company. As punishment for not playing by the rules, in 2003 Khodorkovsky was sentenced to eight years behind bars on charges that Yukos hadn't paid its taxes. The company was forced into bankruptcy.
As the end of his sentence approached, though, the government put together a new case, claiming that Khodorkovsky had in effect stolen much of Yukos' oil production from 1998–2003, and laundered the proceeds. Most commentators agree that the charges are politically motivated and barely credible, but during his years in prison, Khodorkovsky has done little to endear himself to the Kremlin. He has become an eloquent voice for freedom in Russia, and now regularly draws comparisons with Soviet era dissident Andrei Sakharov.
Many critics will view the verdict as a test of the efforts of Russian president Dmitry Medvedev to hew to a more liberal line than Putin. But there's little doubt that Putin still holds the power in the tandem with Medvedev.
Doing business in Russia has never been easy—or fair. The Khodorkovsky verdict will likely only serve to reinforce Russia's notoriety as a place where the rule of law applies only when it's convenient for the powers that be.