Russia's largest bank avoided being removed from Swift but was sanctioned directly by the US and UK governments and undermined by sanctions targeting Russia's central bank.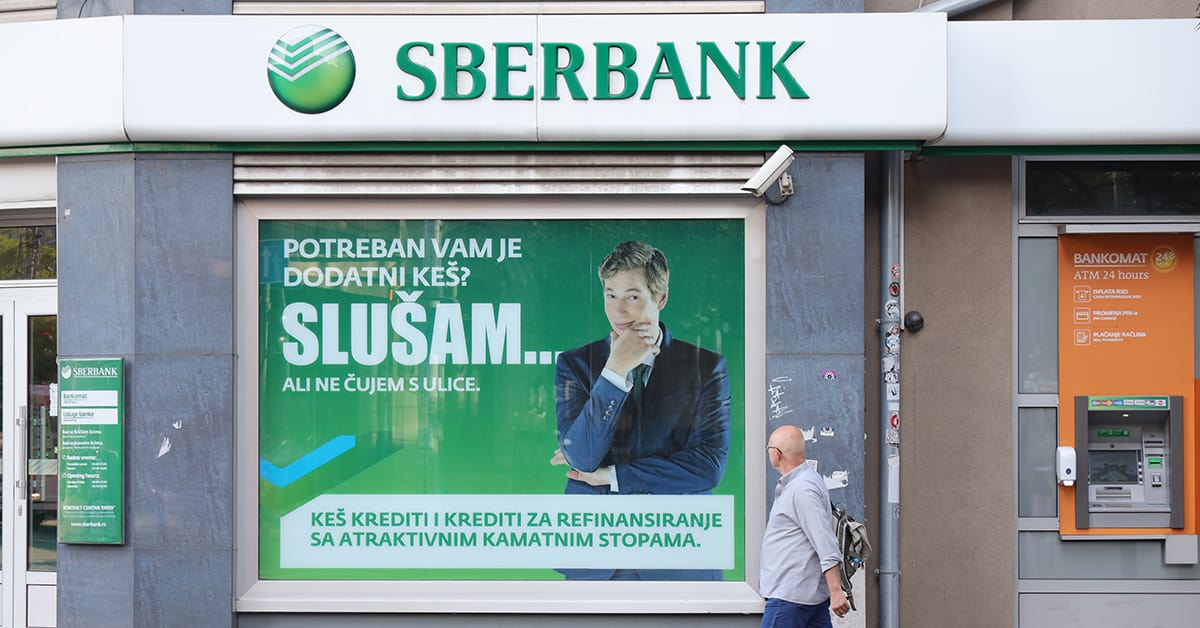 Fortunately for Sberbank, it was not among the seven Russian financial institutions that the European Union (EU) announced on Wednesday, March 2, would be cut off from Swift in 10 days. The Brussels-based financial messaging system connects more than 11,000 banks globally, including more than 300 Russian banks.
Unfortunately for Sberbank, being removed from the Swift payment network isn't the bank's only problem. On March 1, Britain added Sberbank to its sanctioned entities list and Austria's Financial Market Authority announced the immediate closure of Sberbank's European operations (which are headquartered in Austria). The European Central Bank (ECB) mandated the latter move due to concerns about the bank's "massive financial difficulties in light of recent geopolitical developments and massive liquidity outflows, which meant that it would potentially become unable to pay."
In announcing its fourth quarter and fiscal 2021 results—which saw the banking group post a net profit of 1.2 billion rubles ($10.4 million) for fiscal 2021—Sberbank said its branches were all operating as usual, and that its corporate and retail clients still had access to their funds in full. But sanctions on Russia's central bank would constrict Sberbank's liquidity elsewhere.
Susannah Streeter, a senior investment and markets analyst with UK-based retail broker Hargreaves Lansdown, said Sberbank's exit from Europe "is yet another blow to Russia's financial stability and a sign of the brutal flight of cash as sanctions take hold. Although Sberbank posted record annual profits for 2021, and claims it has sufficient capital to make payments to all its depositors, confidence has seeped away given that Russia's central bank is fast being frozen out of the global financial system."
The list of seven banks to be 'disconnected' from Swift as of March 12, published in the EU's Official Journal, includes VTB (Russia's second largest bank), Bank Otkritie, Novikombank, Promsvyazbank, Bank Rossiya, Sovcombank, and VneshEconomBank (VEB). In a statement, the European Commission said these banks were chosen because they are already subject to sanctions by the EU and other G7 countries. The European Commission said it is prepared to sanction additional Russian banks on short notice, depending on how the situation in Ukraine unfolds.
In terms of how the Swift ban on the seven Russian banks will work, Tim White, a special advisor on sanctions at financial crime compliance firm AML RightSource, says it is likely that Swift will "flick a switch" and turn off the affected banks from its messaging network. "Specific financial institutions may also have to block specific Bank Identifier Codes (BIC) in their systems," he explains.
In a statement posted on its website, Swift acknowledged legal instruction from the EU to disconnect the seven Russian entities (and their designated Russia-based subsidiaries) from its network on March 12.
Sberbank and Gazprombank were two notables left off the list—for now. Many EU countries are highly dependent on Russian energy, and Europeans do not want their payments for purchases of oil, gas or other raw materials blocked. Given the financial and economic interdependencies between EU economies and Russia's, countries like Germany, Italy and Hungary were reluctant to take the drastic measure of shutting off transactions with all Russian banks.
"Swift has the critical mass of the global financial system moving through it," says Tim White. "The collateral damage will be significant."
How much worse will things get for Russia's banks? The Institute of International Finance (IIF), a financial services industry trade group, warned last month that a fundamental destabilization of the entire Russian financial system was in the cards should Russia's largest financial institutions be included in any ban from Swift's global financial messaging network.
White says Russian banks banned by Swift may try circumvent their exclusion by routing payments through other un-sanctioned banks although that could entail severe financial penalties. In 2015, French bank BNP Paribas was fined almost $9 billion violatiing US sanctions against Sudan, Cuba and Iran. One of the schemes the bank is said to have used to avoid detection entailed "transporting misleading bank payment messages" through Swift's international network.
Alternatively, Russia could expand its own financial messaging service, SPFS, which was developed by the central bank following Russia's annexation of Crimea in 2014 explicitly as part of an effort to "sanction-proof" the economy, or tap into China's version.
Meanwhile, the risk of a 'run' on Russian banks is rising sharply, according to Henry Wilkinson, Chief Intelligence Officer at Dragonfly, a London-based corporate intelligence firm. He said there are reports of long queues of customers outside banks in Russia as they rush to withdraw rubles to convert into dollars, or to buy items like iPhones, which may hold their value better than Russia's currency right now. But even that may not be an option for Russian consumers anymore, as Apple confirmed it stopped selling its products in the country.
"Runs on banks tend to be a self-fulfilling prophecy," says Wilkinson, adding that there might be a 'silent bank run' as people try to withdraw their money online. However, most of the Russian banking sites cannot be accessed online outside of the country. Wilkinson says it is unclear whether this is the result of cyberattacks or because the sites have been 'geofenced' so people outside of Russia cannot withdraw money.