NEWSMAKERS: NIGERIA
By Anita Hawser
Nigerian central bank governor Lamido Sanusi believes the likelihood of European banks going into a major crisis is quite high, and is concerned over the impact on Nigerian oil exports.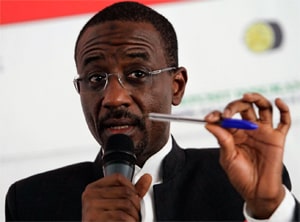 Sanusi looks to Asia for Nigerian borrowing
Speaking at a central banking and financial sector development conference hosted by Bank Negara Malaysia in November, Sanusi said: "We are concerned because we sell our oil to Europe and America, and any major slowdown is likely to lead to softness in the oil market, which would affect government revenues. The only thing that is different is that [Nigerian] banks are better prepared than they were in 2008 as we have recapitalized them and cleaned up their books."
Although financially-troubled eurozone countries—Greece, Portugal and Ireland—are not big enough to bring down European banks, with an estimated 1.8 trillion euros in debt, Sanusi said Italy is a bigger problem, as is Spain. By the central banker's own estimation, Europe needs 2 trillion euros to fix Italy and Spain, which he estimates is more than two-thirds of the total tax revenues of Germany.
The crisis in Europe is forcing Nigeria to look further afield for borrowing. Increasingly, Sanusi sees his country's fortunes tied to Asia. Following the 2008 banking crisis, the central bank modeled its response on that of Asian central banks, such as Bank Negara Malaysia. It also sees Malaysia as the obvious choice for issuing a sukuk toward the end of 2012. Although the final decision on a sovereign sukuk rests with Nigeria's finance ministry, Sanusi said the CB is playing a facilitating role. A sukuk could attract interest from Asian and European investors, and proceeds could be used to finance infrastructure projects in Nigeria. With a Muslim population of more than 80 million, Nigeria could become an Islamic finance hub in Africa, according to Sanusi.
Having converted 10% of Nigeria's foreign exchange reserves to renminbi, Sanusi also hopes to draw upon the growing market for offshore renminbi borrowing. "It is important to look to Asia, in the short term at least, as one likely source of borrowing," he said.