INDIA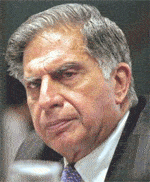 Ratan Tata, head of Tata Group

Tata Tea Ltd (TTL), Indias largest and the worlds second-largest tea processing and marketing company, has made the largest-ever overseas acquisition by an Indian company. It acquired a 30% stake in Energy Brandsalso known as Glaceauan American specialty bottled-water and energy-drink maker, for $677 million in late August. Energy Brands, with $350 million in revenues, has been credited with creating a new segment in the US beverage market for water enhanced with nutrients and electrolytes. This acquisition is TTLs third in the US in the past couple of years and the fifth overseas acquisition since 2000.
The Indian government, too, seems to be in the mood for cross-border investments. The government announced that it intends to join the pipeline for transporting natural gas from southern Turkmenistan through Afghanistan and Pakistan to the Indian sub-continent. This is a $3.3 billion project, funded in part by the Asian Development Bank (ADB). This pipeline is expected to transport 100 million standard cubic meters per day (MSCMD), of which Indias share will be 60%, over a distance of 1,200 miles to India. Indias consumption of natural gas is expected to double to 313 MSCMD from the current level of 150 MSCMD by 2012, but production is not expected to keep pace. The quartet of countries involved in this project will meet over the next few months to finalize the framework of agreements that will drive the project.
The external sector seems to hold good tidings for India this season. The latest figures from the ministry of commerce and industry indicate that foreign direct investment rose by 54.5% to $1.7 billion in the April-June 2006 quarter compared to $1.1 billion in the corresponding period last year. In June 2006 the growth was significant at 102%, from $264 million to $534 million. And exports from India grew by 41% to $38 billion in the April-July 2006 period.

Aaron Chaze