EUROPE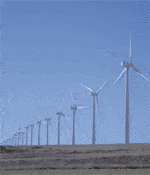 Wind farms: Investors

seek alternatives
Once upon a time, tobacco, oil and consumer-goods companies were staple stocks in most investment managers portfolios. That has not changed, but when one of the United Kingdoms largest fund managers, with 107 billion under management, starts talking up ethical stocks, it is an indication that there is a fundamental shift afoot in investment strategies.
Sophie Horsfall, fund manager of the F&C; Global Growth and Stewardship International funds, which is part of F&C; Asset Management Europe, maintains that ethical stocks are more popular with fund managers than ever before, thanks to the increasing government and regulatory focus (the Kyoto Protocol) on alternative fuels and reducing industrys carbon footprint. Government policy changes and increasing demand for greener products ultimately make ethical stocks more attractive, says Horsfall. Examples include companies working in the fields of alternative energy, low carbon technologies, energy efficiency, water management and urban regeneration.
While traditional energy stocks such as BP have benefited from short-term factors, which contributed to the recent hikes in oil prices, Horsfall says that, given concerns over security and diversification of supply and a rising awareness of environmental issues, alternative-energy stocks are increasingly seen as attractive longer-term investments. And although the alternative-energy industry is still relatively nascent and only just becoming profitable, Horsfall says many fund managers with wide mandates are starting to invest. On average, about 3% to 4% of our unconstrained global funds are invested in alternative-energy stocks, and 11% to 12% of the ethical funds.
While alternative-energy stocks currently seem relatively expensive, investors are looking to the longer term. As technology improves and the optimal scale is reached, alternative energy will become ever more competitive, which, adds Horsfall, can only be good for the shares of the companies in that market.




Anita Hawser