CHILE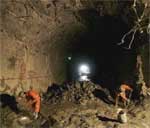 Chile's state-owned copper mine, Codelco, faces opposition over privatization plans.
With the long wave of Latin American privatizations seemingly coming to an end, Chile looks like it might be about to jump back in the water. Talk of a possible sell-off of Chile's state-owned Codelco copper producer, the world's largest, have been revived, and the proposal is set to be a hot issue ahead of next year's presidential election.
Codelco, which accounts for more than 10% of world copper production, was founded in 1976 to manage copper mines after the sector was nationalized in 1971. But critics say the company has since become a poorly managed cash cow. Sky-high copper prices have put Codelco in the limelight, with opponents to its privatization pointing to its substantial contribution to GDP and supporters claiming internal problems have kept it from taking full advantage of the windfall. With more than 17,000 workers employed by Codelco, labor leaders are among the most vocal opponents of privatization plans. The company has recently been plagued by labor protests over wages and bonuses.
Many of Codelco's top executives have left in recent years, as a government cap on executive wages has made them an easy target for poachers from global rivals. Codelco's output has declined over the past three years, partly as a result of the management turnover. The president's appointment of the company's seven-member board has also raised questions over Codelco's role as a political tool.
Codelco reported over $2 billion in profits during the first quarter of the year, the highest first-quarter profit in the company's history—and $230 million more than the same period last year. Under a law passed under the administration of former dictator Augusto Pinochet, 10% of Codelco's export revenue is earmarked for defense spending.
As the debate heats up, a multi-partisan group of legislators, academics and economists drafted a series of reform proposals, including a suggestion to float a minority stake in Codelco on the stock market and another to streamline its cost structure. While the socialist administration of president Michelle Bachelet is not keen on the sell-off plan, the debate will likely continue even after her term is over in 2010.
Antonio Guerrero