MILESTONES: SOUTH KOREA
By Thomas Clouse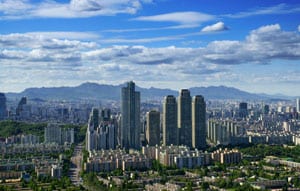 Seoul: Tighter ties with the United States
South Korea finalized details of its free trade agreement (FTA) with the United States last month, more than three years after the former presidents of the two countries signed an initial agreement. In June current South Korean president Lee Myung-bak and US President Barack Obama reopened negotiations over the remaining details of the FTA and concluded those negotiations in early December. According to the resulting agreement, both countries will have longer time frames for eliminating some tariffs, particularly in sensitive automotive and agricultural sectors.
The agreement, known as the Korus FTA, must now receive approval from the legislatures of both countries before becoming law. In the US the compromise won the support of the United Auto Workers union, which says the agreement is "an important step toward a global rule-based trade system." The union's support will boost prospects for quick passage of the agreement in the US Congress. In Korea the significant concessions offered to the US in the recent compromise have drawn some criticism, but the agreement is still expected to gain approval.
The Korus FTA could add more than $9 billion to South Korea's GDP and $25 billion to that of the United States, according to a 2007 study by the Korea Economic Institute. In addition to these economic benefits, the further integration of the economies will enhance the political and military relationship, a priority for both countries following North Korea's attack on a small South Korean island in November. The closer relationship with South Korea also strengthens the United States' presence in a region where China is increasingly assertive.
If successful, the Korus FTA will be the second landmark FTA in recent months for South Korea, which inked an FTA with the European Union in October. Interpretations of the international effects of the new FTAs remain mixed. Some analysts believe South Korea's Korus and other FTAs could rekindle interest in multinational agreements to reduce trade and investment barriers. Others, however, view the FTAs with the US and the EU as further evidence of the movement away from multilateral to bilateral agreements.