Corporate reform gets real in South Korea.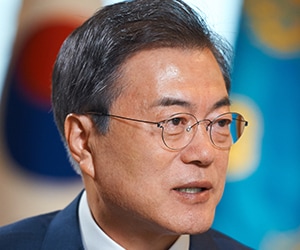 Maybe—just maybe—South Korea is ready to rein in its powerful conglomerates.
Pharma giant Samsung BioLogics, a unit of conglomerate Samsung, suspended trading last month after the Securities and Futures Commission (SFC) ruled it had committed accounting fraud. In a statement released November 14, the SFC said BioLogics had "intentionally violated" accounting rules by changing the treatment of its stake in its biopharmaceutical unit, Samsung Bioepis, from book value to fair market value in the run up to its 2016 listing.
The regulator slapped BioLogics with a KRW8 billion ($7 million) fine and dinged its auditors, Samjong KPMG, an additional KRW170 million for "gross negligence," banned it from auditing the company for five years.
BioLogics was suspended from trading and now faces criminal investigation and a possible delisting, not to mention loss of shareholder value. A company statement called the ruling "unfortunate" and "disappointing," adding, "Due diligence [found] no problems in the accounting treatment."
The scandal once again highlights the issue of corporate governance at South Korea's family-run conglomerates, the so-called chaebols that dominate the economy and are seen as both unaccountable and monopolistic. Samsung is perhaps the most egregious example of chaebol influence in Korea, as its various subsidiaries make up as much as a fifth of GDP, according to some estimates.
South Korean President Moon Jae-in took office early last year with a pledge to reform the chaebols. In late 2017, the government put the conglomerates on notice by raising the top corporate tax rate from 22% to 25%. Since then, however, Moon has been accused of sidelining his reform pledge in order to focus on reconciliation with North Korea and issues arising from the US-China trade war. The question now is whether the Samsung BioLogics scandal will generate enough political will to propel further efforts to bring the chaebols to heel.