Spain's PM manages to survive a tough intra-party challenge.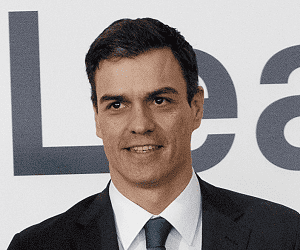 Two years ago, his political career was all but dead. Today, Pedro Sánchez is Spain's new prime minister.
The 46-year-old leader of the Spanish Socialist Workers' Party (PSOE) assumed office on June 2, a day after successfully spearheading a historic vote of no-confidence against his conservative predecessor, Mariano Rajoy, who was embroiled in a corruption scandal.
His swift comeback left many rivals in shock. In October 2016, Sánchez was ousted as PSOE leader after the party suffered its worst-ever general election defeat. In a bid to reconnect with Spanish voters, Sánchez decided to drive around the country from town to town, managing to win the party primaries and again take charge just seven months later.
Sánchez, however, faces tough odds if he's to push through his program of faith, hope and charity—plus infrastructure spending and worker-friendly policies—and keep the prime minister's job. PSOE holds only 84 of 350 seats in the lower house of the legislature. "The vote of no confidence raised the profile of [PSOE]," says Sebastian Balfour, emeritus professor of contemporary Spanish studies at the London School of Economics and Political Science. "Sánchez might seek to improve this by making conciliatory gestures and carrying out popular policies that do not require a majority in parliament."
That limits what the new administration can achieve. "So few seats and weak legislative support make pretty clear that the government will not pass any significant bill in this legislative term," comments Pablo Simón-Cosano, a political science professor at University of Carlos III in Madrid. "Nevertheless, it can use decrees to gain symbolic battles."
A good showing in the 2019 regional and local elections could increase Sánchez' leverage. "He will use the tool of the government to call for the kind of reforms and social action he can accomplish with a bigger majority, using the government's weakness to call for more support from voters," Simón-Cosano argues. "Depending on the result, he might even call for early general elections." Sánchez, an economist by training, has proved to be a politician able to read the social mood and take advantage of it, says Simón-Cosano.