When the CEO is the face of the brand, a change in leadership brings added risks—and Starbucks is already under pressure from competition.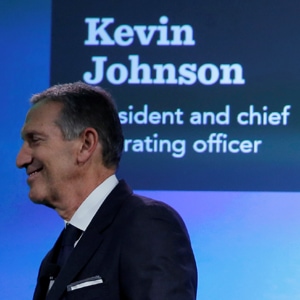 Kevin Johnson, Starbucks COO, is taking over as the company's CEO, while Howard Schultz, the company co-founder and CEO, is becoming its executive chairman and focus on social impact and high-end coffee stores. Schultz came back to Starbucks as CEO in 2008 to turn around a struggling company, addressing its large number of locations and deteriorating customer experience. Since Shultz has become the face of the company and his style has defined the company's growth, one of Johnson's challenges is building a new independent leadership.
The leadership profile is critical for the value of a brand like Starbucks. "Regardless of how glamorous CEO's resume is, it is a CEO's success in gaining leadership visibility with the right target audiences (investors, employees, etc.) that helps build a global brand," notes Ken Makovsky, president of Makovsky, a US public relations and communications firm.
One recent study found that almost half of an organization's market value is attributable to a CEO's reputation and building visibility. As Steve Jobs illustrated at Apple and Bill Gates at Microsoft, the payback is dramatic, Makovsky notes.
Starbucks' new CEO is taking over during challenging times for the global restaurant operator and bakery-café chains. Changing customer habits and rising labor costs have led to slower traffic and declining profits. Undervalued brands, such as Panera Bread, which have invested in technology and healthy options, have been attractive targets for private equity firms, while struggling restaurant companies, such as Cosi and Garden Fresh, are either in bankruptcy or looking at other strategic options.
Technology may open new sources of revenue. Already, Starbucks apps cater to the "digital consumer;" one offers the ability to execute a mobile order while picking up a drink at a local store. Johnson, who brings vast experience in the digital and mobile space, is expected to lead this revolution at Starbucks.
Starbucks' new CEO will have to gain market visibility and stakeholders' trust early on. "Public visibility cannot be an afterthought," notes Makovsky, "if one wants to hit the bull's eye on raising the profile of a global brand."