An overview of the "big picture" trends in treasury and cash management shows the total value of markets in specific sub-sectors.
---
---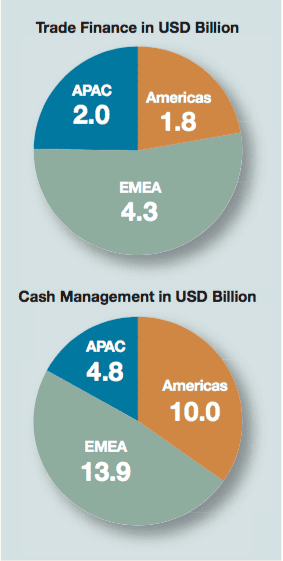 Our annual overview of the treasury and cash management market gets into the details of regulation and compliance, cross-border payments, treasury technology innovations, know-your-customer rules and more. But we want to step back from the trees and look at the forest, too. So we reached out to some friends.
The people of Coalition, an analytics and business intelligence provider which puts together a corporate and investment bank index, provided Global Finance an exclusive forecast for the current year, based on data from the first half. The total dollar amount of activity in transaction banking, according to the Coalition index, should slightly decrease to $36 billion this year, from $36.8 billion last year and $39.1 in 2014. The data derived from Coalition's analysis of the leading CIB banks performance and activity, validated through extensive study of public information and independent research with market participants, and thus represents the bulk of activity in these products.
The component parts maintain relatively stable relative positions year to year: cash management accounts for 80% of the total, with 55% from liquidity and balances cash management and 23% from payables and receivables. Trade finance and in traditional trade products—like letters of credit—are steady at 16% of the total market, while supply chain finance activity maintains a stable 4%, and commodities trade finance activities contribute 2%.
Geographically half of the total activity takes place in the EMEA region—Europe Middle East and Africa—while North and South America registers 32% of the total activity in transaction banking and the Asia-Pacific region the remaining 18%. As for the clientele, 66% of the activity in transaction banking relates to corporates and the rest to financial institutions.
In securities services, Coalition forecasts the total value of the market will decrease this year, to $13.1 billion from the $13.5 billion last year and $14.4 billion in 2014. Among the different services, custody is steady with a 43% of the total, and so is the 31% of fund services for a clientele that in securities services is composed by 90% made of financial institutions.
That's the big picture, comprised of thousands of individual successes in different areas. Those niches are discussed in detail in the following pages, which also incude our ranking of the most liquid and cash-rich public companies—the top 25 globally as well as the standouts in each region.