Is Terry Gou Taiwan's Donald Trump?
Both Donald Trump and a Chinese sea goddess gave him their blessing to seek Taiwan's presidency. Or, at least, that is what he claims. Terry Gou, however, might pull a victory off without any secular or divine help. As the founder of Foxconn—maker of iPhones for Apple, among other products—and the country's richest person (or one of), the 68-year-old businessman does not lack name recognition. In the island-state of a little under 24 million, news of his run caused a sensation. The reverberations, if he is elected in January, will be felt across the entire region and beyond.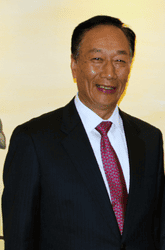 As a billionaire candidate, he does have a certain appeal. "In terms of the oldest research and literature on leadership, Gou easily fits the mold of the 'great hero,'" says Chris Rowley, a professor at Kellogg College, University of Oxford. "Supposed success in one field—be it in business, making money—is taken as a proxy for successful leadership that can be transplanted seamlessly into the political arena, despite the very different contexts."
Gou's story is compelling. The son of a police officer who fled to Taiwan after the Communist takeover of the mainland in 1949, Gou started his first business in 1974 making TV control knobs and other plastic components. Soon he was taking orders from Atari. The key break came in 1994, with the first contract with Apple. Today, in addition to iPhones, Foxconn makes iPads, Amazon's Kindle e-readers and game consoles for Sony and Nintendo.
Gou's decision to seek the nomination of the China-friendly Kuomintang, Taiwan's main opposition party, alarmed many. "A tricky balancing act is required of him," Rowley says. "China considers Taiwan part of its territory and dominates its economy—it is Taiwan's largest trading partner, and going through China are over 70% of Taiwan's outward investments and more than 40% of its exports." Furthermore, Rowley adds, Gou's company has huge numbers of employees on the mainland. "He will be faced with the economy's need both to develop its own global—especially tech—brands, and to refocus on South and Southeast to reduce its overreliance on China."