NEWSMAKERS: FRANCE
By Luca Ventura
French president-elect François Hollande is a flag-bearer for adding growth incentives to a European fiscal agreement, rather than just doling out austerity measures.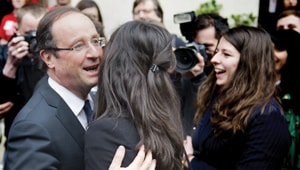 Hollande elated at defeating Sarkozy
Photo Credit : SKPHOTOGRAPHY / Shutterstock.com
Hollande defeated incumbent president Nicholas Sarkozy by a 3% margin, making Sarkozy the 11th European leader to be ousted in the wake of the debt crisis. He received an unexpectedly temperate reception by German chancellor Angela Merkel, who—after overtly supporting his competitor's reelection—said she would welcome him "with open arms."
However, whether the two leaders will be able to establish a noncontentious working relationship is up in the air: Hollande's main campaign promise was to loosen policy constraints and add a growth component to the fiscal compact signed in March by all EU members except the UK and the Czech Republic. After the election he kicked up his rhetoric a notch, saying the compact would not be ratified without a growth component.
Hollande faces daunting tasks. At home, he has pledged to raise the minimum wage, lower the retirement age and create thousands of new jobs. Plus, he has committed to bring France's budget deficit down to 3% of GDP next year and to eliminate it by 2016. In order to fulfill these goals, some observers say he will have to do exactly what his predecessor did: control spending.
Hollande faces doubters aplenty. But he espouses the perspective of a growing number of analysts and economists: that austerity alone will not solve problems in the euro area. At a conference on country risk in May, Evariste Lefeuvre, a managing director and chief economist at French investment bank Natixis, said: "The story [in the eurozone] is clear. If you ask for more effort [austerity], you have to give something in exchange. It cannot be all punishment."
It is against this backdrop that Hollande's competence will be tested. He advocates recapitalization of the European Investment Bank, the issuance of "EU project bonds" as vehicles for investment in infrastructure projects, and more relaxed deficit-reduction targets. But first he must convince his counterpart in Germany to sign on to the program. At risk is nothing less than the future the EU and its single currency.