NEWSMAKERS: ITALY
By Anita Hawser
As yields on Italian debt crept above 7% in mid-November, all eyes were on Italy as the next house of cards that could come tumbling down in the eurozone.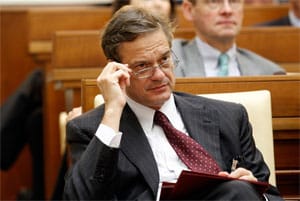 Bini Smaghi out at ECB, moves to Harvard
However, it seems Italy's economy is not the only casualty from the eurozone debt crisis. It has called into question the makeup of the European Central Bank's (ECB's) executive board. With former Bank of Italy governor Mario Draghi assuming the presidency of the ECB in November, the position of existing ECB executive board member, Lorenzo Bini Smaghi, became increasingly untenable.
In recent months Bini Smaghi came under pressure from other eurozone countries, such as France, to relinquish his post on the ECB's executive board, after former Italian prime minister Silvio Berlusconi reportedly promised French president Nicolas Sarkozy, back in April, that Bini Smaghi would go if the French supported Draghi's candidacy to become president of the ECB Bini Smaghi, however, initially resisted calls to step down from his ECB position unless he was offered a "suitable alternative." He hoped to secure Draghi's former post as Bank of Italy governor, but he was passed over for another candidate, Ignazio Visco—appointed in October.
Bini Smaghi's position on the ECB's executive board was not due to expire until 2013, but with Italy now the major focus of the eurozone's debt problems, the pressure has mounted to drop him. In mid-November he finally announced he would leave the ECB at year-end. According to professor Michael Ben-Gad, head of economics at City University in London, there is nothing written in the ECB's rules that would make it obligatory for Bini Smaghi to leave his position early. But, he adds: "it is about perception, especially if the ECB gets dragged into bailing out Italy." He notes that the tabloid press in countries like Germany could have had a field day with Smaghi and Draghi.
There have been a number of high-profile departures from the ECB's executive board this year: President Jean-Claude Trichet and executive board member Gertrude Tumpel-Gugerell's tenures ended and Jürgen Stark quit in September, reportedly in protest over the ECB's purchases of European sovereign debt.
Bini Smaghi will take a post at Harvard's Center for International Affairs on January 1.