ExonMobil's CEO Rex Tillerson went overnight from dark-horse candidate to president-elect Donald Trump's nominee for secretary of State. The appointment is subject to a Senate hearing—which will be contentious. But if confirmed, Tillerson might prove to have the most challenging position in the new cabinet as he wrestles with strife around the world, including potentially a new relationship with Russia.
Tillerson was set to retire from Exxon in March. Now the surprise nominee is set to leave the world's largest oil company a little earlier than planned.
"The transition will be very interesting," says Fadel Gheit, an energy industry analyst at Oppenheimer. He notes Tillerson's 10 years as CEO of Exxon, meeting heads of state around the world, and, even before that, his time as Exxon manager responsible for Russia and the Far East, during which time he met president Vladimir Putin—almost 20 years ago. Despite Tillerson's lack of government experience, his global dealings provide impressive credentials for taking the most important position in the cabinet, Gheit says.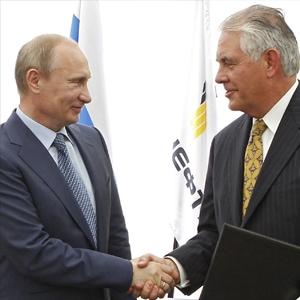 Challenges such as Syria's refugees, North Korea's nuclear threat and Russia's annexation of Crimea and incursion into eastern Ukraine will leave Tillerson little time to adjust to his new job. "All these things are going to be dumped on his desk the first day he walks into his new office and has to hit the ground running, so he will need all the help and support he can get in order for him to be as effective as he was as CEO of one of the largest companies in the world," says Gheit.
Although most people would have preferred a diplomat who has risen through the ranks, Gheit believes Tillerson has attributes that a government officer will never have: "He is very smart, listens very carefully, is a decision-maker who is not afraid of taking a position and defending it but is willing to correct his position."
And then there's his understanding of Putin. Gheit adds: "[Tillerson] is familiar with exactly what is happening, the politics in Russia and what is motivating Putin—so he will be able to offer Trump the best advice to bring Putin out from the cold. It's like defanging Putin so he doesn't hurt any more people."