MILESTONES: TORONTO
By Erik Heinrich
Canada's financial capital is on track to become one of the largest global banking centers—overtaking London in the number of banking jobs by 2017, according to Moody's Analytics.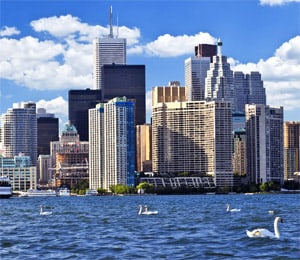 Toronto to overtake London in banking
Toronto's financial district—known as Bay Street after the thoroughfare that cuts through its middle—has 320,000 financial -services jobs to London's 400,000. But Toronto is expected to add about 100,000 banking jobs between now and 2020, while London is expected to lose a further 30,000 jobs over the same period, on top of the 60,000 positions lost in London during the first two years of the recent financial crisis.
It also confirms that the British capital has failed to staunch the outflow of high-paying jobs in its once-flourishing banking sector as the country's economy struggles with spending cutbacks and the biggest drop in living standards since the 1930s.
"London has seen its best days," says Mark Hopkins, senior economist at Moody's Analytics and author of the study. "Toronto is up and coming with a bright future." The main reason for this sea change comes from the fact that Canada's major banks sailed through the financial meltdown of 2008 with solid balance sheets and no need for government bailouts.
As a result they became the new global standard for financial stability, replacing their Swiss counterparts, and Canada has emerged as a financial safe haven. "The secret to their success is being conservative," says Hopkins of Moody's Analytics.
As a result, instead of dealing with widespread layoffs seen in New York and London, Toronto is seeing job growth and a real estate boom in its downtown core. Many of the new jobs on Bay Street are expected to come from a sharp increase in foreign investors buying up Canadian assets, equities and bonds as a hedge against economic turmoil.
But from a corporate and commercial perspective, the Canadian banking system is somewhat less attractive. Canada's small cabal of tightly regulated banks are perhaps the least competitive in the G7. This makes it possible to earn huge profits from domestic operations without making risky investments outside their borders.