NEWSMAKERS : ITALY
By Luca Ventura
When the dairy giant Parmalat, a household name in more than 30 countries, collapsed in 2003 with a $20 billion hole in its accounts, Italian finance minister Giulio Tremonti fittingly dubbed the scandal "Europe's Enron."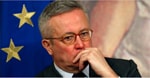 Tremonti: "Europe's Enron" Parmalat is now a strategic asset
After eight years and a successful reorganization of the company, Tremonti has a different name for Parmalat: a "strategic asset."
The Italian minister is not the only one to see it that way, and in seeking to block the takeover by French company Lactalis of the agrifood conglomerate is bringing on himself the accusation of turning the clock back to the heyday of post-war protectionism. At the center of the debate is an emergency decree that postponed until June a shareholder meeting originally scheduled for April 12-14, a ruling that enabled the Italian government to ward off the overhaul of Parmalat's board after Lactalis secured a 29% stake in the group—consequently buying time to set up a state-sponsored fund aimed at saving the nation's leading industries from foreign offensive bids.
The tussle over Parmalat, in fact, transcends the saga of what remains Europe's biggest-ever bankruptcy. Italian luxury brands such as Bulgari and Gucci and banks like BNL have fallen into French hands in recent years, while power company Edison and insurer Generali are now widely seen as future targets.
Tremonti has quickly shrugged off the criticisms by pointing out similar precedents, at first hinting at the Investment Act created by the Canadians to fend off the invasion of American capital, then borrowing directly from the French and their "Fonds Stratégique d'Investissement." Defending his plan to institute an equivalent fund open to private investment, Tremonti declared in his trademark provocative style: "We will submit to the European Commission a draft law identical to the French one. Or better still, we will submit a text written in French."
Tremonti might have a point here, and his plan, rather than be dismissed as the last dying breath of old-time protectionism, could force his critics to take a hard look at similar practices still widespread in and beyond the EU.