NEWSMAKERS: EUROPE
By Anita Hawser
At the press conference that followed the European Central Bank's Governing Council meeting on October 6 in Berlin, few would have guessed that it was Jean-Claude Trichet's last meeting as ECB president.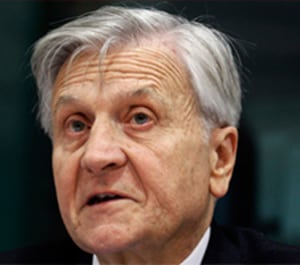 Jean-Claude Trichet, defender of the euro
Apart from an effusive introduction by Jens Weidmann, president of the Deutsche Bundesbank, stating that Trichet had "gently and skillfully steered market expectations using a careful and deliberate choice of words," normal monetary policy issues and the ongoing sovereign debt crisis loomed larger than Trichet's pending departure.
One journalist at the press conference asked if Trichet, as a founder of the euro who helped write the Maastricht Treaty, was disappointed about the failing sense of unity among European leaders. In typical Trichet style, the outgoing president defended the euro, saying it had delivered price stability and that the ECB was proud to issue the euro as a currency.
However, he conceded that governance within the eurozone was insufficient and recalled that he had first warned against any weakening of the EU Stability and Growth Pact eight years ago when he took up the central bank presidency. Trichet said the ECB has a responsibility not only for price stability. "In Europe not many have the possibility of having the big picture. We have the chance to have the big picture, and it is our duty to share it," he noted.
Trichet is leaving the ECB at a difficult time. Inflation in the eurozone remains above 2%, risks to eurozone economic growth continue, and there is little room to maneuver in terms of interest rates.
Tim Ohlenburg, senior economist for the UK Center for Economics and Business Research, said Trichet's ECB presidency could be divided into two halves. The first part from 2003 to the onset of the global financial crisis was characterized by stable macroeconomic conditions. In the second half of Trichet's tenure, Ohlenburg said, the ECB was forced to move away from "setting interest rates" and instead became a provider of liquidity to support the financial sector, a role which has grown with the eurozone sovereign debt crisis.
"Mr Trichet has steered his institution through these crises, but perhaps only at the cost of undermining the ECB's independence," Ohlenburg said.