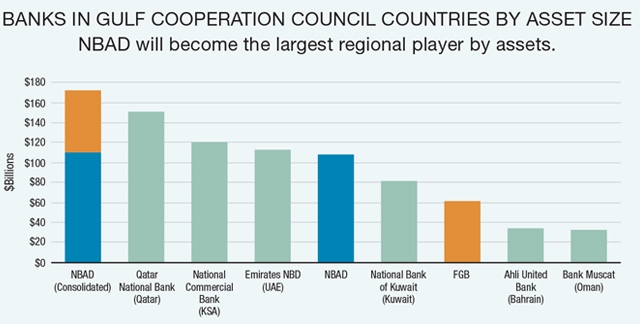 After several years of inactivity, the Gulf Cooperation Council (GCC) could see a spate of M&A deals in financial services. National Bank of Abu Dhabi (NBAD) and First Gulf Bank (FGB) are set to complete their $29 billion merger in the first quarter, creating the largest bank in the GCC, with assets around $170 billion, according to Moody's Investors Service.The deal, formally announced in July, could spur further consolidation in the UAE, a market widely regarded as overbanked, with more than 50 banks serving a population of approximately 9 million.
In a statement, NBAD and FGB said the merger will generate cost synergies of roughly $136 million annually, with one-off integration costs of about $163 million. Dubai-based Arqaam Capital considers the merger "transformational," setting the scene for NBAD's foreign expansion—comparable to the acquisition by GCC rival Qatar National Bank of Turkey's Finansbank. Local rumors suggest Union National Bank could face a takeover by Abu Dhabi Commercial Bank. Arqaam describes UNB as an "extremely attractive takeover target for ADCB."
Resurgent M&A activity is unlikely to be confined to the UAE, analysts say, as low oil prices squeeze margins. Still, Chiradeep Ghosh, financial institutions analyst at Securities and Investment Company in Bahrain, says some markets are well served: "Saudi Arabia and Qatar are adequately banked, while Bahrain and the UAE are more likely to see consolidation." Ghosh tells Global Finance any merger needs a clear strategic rationale to succeed. "Most banks face funding pressures, and mergers would not ease these concerns if both banks have [problems]," he says. "But the NBAD/FGB merger will make it harder for other banks to compete."
GCC banks have emerged from the financial crash stronger, says Nitish Bhojnagarwala of Moody's Investors Service: "Despite being fragmented, banks, particularly in the UAE, have been able to generate solid pre-provision growth after the global financial crisis in 2008-2009."
This year Abu Dhabi merged sovereign wealth fund Mubadala with International Petroleum Investment Company, and Adnoc (Abu Dhabi National Oil Company) merged two offshore oil firms—Abu Dhabi Marine Operating Company and Zakum Development Company—in a bid to rationalize state-owned entities.