REGIONAL FOCUS / MIDDLE EAST


New refineries and petrochemical facilities will squeeze more value out of the countrys crude oil and form the basis for a network of industrial complexes.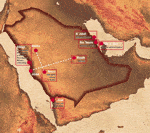 Project finance activity is booming in the Middle East, with Saudi Arabia, the worlds largest oil producer, leading the way as it embarks on a massive program of downstream development that will create jobs in plastics and chemicals production, as well as in the manufacture of finished goods.

The desert kingdom will enjoy the biggest inflow of petrodollars in its history of approximately $163 billion this year, according to Brad Bourland, chief economist at Samba Financial Group, based in the Saudi capital of Riyadh. The country is entering an era of its best growth ever, and it is balanced growth, with strength in the non-oil private sector, Bourland says. The capital inflows are mind-boggling, and unlike in the last oil boom, the petrodollars are being invested in the local economy, he says. Saudi Arabia is growing at twice the rate of China in terms of nominal gross domestic product, with less than 1% inflation.

While oil prices have retreated from their peak of early summer, Bourland says new structural realities in the energy market will keep prices high, such as growing demand from China and other emerging market economies for energy and industrial feedstocks. The Organization of Petroleum Exporting Countries will have no problem defending a floor of around $50 a barrel for oil for the next decade, he says.
Meanwhile, in December 2005 Saudi Arabia became a member of the World Trade Organization. One of the clear winners from WTO membership, according to Bourland, is the Saudi petrochemical industry, which is dominated by government-controlled Sabic, or Saudi Basic Industries. The company was created in 1976 to add value to the countrys hydrocarbon resources and create jobs for its growing population.
Foreign markets for Saudi petrochemical exports will be opened further as a result of WTO membership, while the countrys natural advantage of low-cost feedstocks will be preserved. Thus, Saudi petrochemical manufacturers will retain a substantial cost advantage over their foreign competitors while gaining better access to foreign markets as tariffs decline globally, according to Sambas chief economist.
Sabic alone has invested more than $6 billion on mega-projects in the past few years and has at least six major projects in the planning stages. It will spend $3.8 billion on materials and equipment and $3.2 billion on construction activities in the next three years.
Meanwhile, Saudi Aramco, the national oil company, plans to spend $133 billion through 2010, not only in searching for oil and gas but on building refineries integrated with downstream petrochemical plants that will be surrounded by industrial cities. About 30 miles north of Jeddah, on Saudi Arabias Red Sea coast, a new city of 2 million people will spring up over the next several years near the town of Rabigh, where Saudi Aramco currently owns and operates a topping refinery designed to prepare feedstocks for the manufacture of petrochemicals. The refinery, which has a nominal crude distillation capacity of 400,000 barrels a day, will serve as the base for developing the oil companys first petrochemicals project.
The Petro-Rabigh project is one of the biggest oil refining and integrated petrochemicals projects in the world and the largest project financing to date in Saudi Arabia, as well as the largest in the region to incorporate long-term Islamic financing. The projects capital of $9.8 billion is divided equally between Saudi Aramco and its Japanese partner, Sumitomo Chemical. The complex, to be completed in 2008, will produce 2.4 million metric tons of ethylene- and propylene-based petrochemicals a year, in addition to 18.4 million metric tons of benzene and other refined products, including gasoline.
The joint-venture partners raised $5.8 billion, including a $2.5 billion loan from Japan Bank of International Cooperation, or JBIC, and a $1 billion loan from the Saudi Public Investment Fund. The financing package also included a $1.7 billion commercial bank facility from 15 banks and a $600 million Islamic financing tranche led by the Islamic Development Bank and including seven other Islamic banks. The signing ceremony was held on March 2, 2006, in London.
Sumitomo Mitsui Banking and its European affiliate acted as financial adviser to the sponsors, while HSBC Saudi Arabia, through its HSBC Amanah unit, was financial adviser on the Islamic financing. Some 25% of the Petro-Rabigh projects capital will be floated by public subscription.
The petrochemicals project will create private-sector investment opportunities for utilities and related infrastructure. An industrial complex to process Petro-Rabighs downstream products will be constructed on some 30 nearby sites, with domestic and foreign investments managed by Sagia, the Saudi Arabian General Investment Authority.
While the project is an enormous undertaking in its own right, it pales in comparison to the King Abdullah Economic City, to be built in Rabigh at a cost of more than $50 billion. Financed by the private sector, the new city will include an international airport and a seaport for containerized cargo that will be the largest in the region, with a capacity of more than 10 million 20-foot equivalent unit containers a year. Emaar Properties, the Dubai-based real estate company, is the master developer.
Emaar the Economic City, a consortium led by Emaar Properties and Saudi investors, is listed on the Tadawul, the Saudi stock market, following an initial public offering this summer that was subscribed to by 10 million people, or half of the countrys population. The company announced at its board meeting in October that the size of the new city would be increased to nearly four times the original plan. The city will include a financial center, an education zone, 50,000 shops, more than 120 hotels, a residential area and 550 mosques.
Saudi Aramcos second major petrochemical project, planned for 2012, will be an $8 billion complex at the Ras Tanura refinery, site of the worlds largest oil export terminal. The project also will include an industrial city. In July Saudi Aramco selected Dow Chemical to enter into negotiations to form a partnership to build the plastics production facility.

Meanwhile, the Saudi oil company is teaming up with Total of France to build a new $6 billion export-oriented refinery in Jubail. Total and Saudi Aramco will each hold a 35% stake, with the remaining 30% stake to be offered to the public. Saudi Aramco is joining with US companies ConocoPhilips and KBR, formerly Kellogg Brown and Root, to build another $6 billion refinery in the Red Sea coastal city of Yanbu.
To exploit Saudi Arabias extensive bauxite reserves and its low-cost energy, mining company Maaden plans to build a $3.76 billion aluminum smelter at Ras Al-Zour industrial zone in the eastern part of the country. Maaden will offer more than 50% of its shares to the public to help fund the project.
In October Saudi Arabia announced another new economic city to be built at a cost of $30 billion in the impoverished Jizan region in the south of the country. MMC, a Malaysian conglomerate, won a tender to construct much of the city, more than 350 miles south of Jeddah on the Red Sea. The project will include a seaport, an aluminum smelter, a steel-processing plant and a commercial business area.
Altogether, Saudi Arabia will spend $200 billion by 2011 on projects, including Aramco crude expansion, petrochemical plants and the Saudi Landbridge project. This major rail project will include the construction of a nearly 600-mile line linking Jeddah to Riyadh and a shorter line between Dammam and Jubail. A high-speed rail project between Mecca and Medina entered the pre-qualification process in September.
In the first six months of 2006, Saudi projects totaled $14.4 billion, up from $507 million in the same period a year earlier, according to Thomson Financial. Qatars liquefied natural gas expansion projects led project finance activity in the region in 2005.
Middle East project finance lending more than doubled in the first half of 2006 to $24 billion from $11.8 billion in the first half of 2005. The Middle East and North Africa had the biggest increase in project finance activity of any region of the world last year, with a 96% rise to $44.3 billion, of which $38 billion were new-build projects, according to Dealogic.
While every country in the Gulf Cooperation Council, or GCC, is upgrading the development of natural resources and investing heavily in industrial infrastructure, Saudi Arabia and Qatar are currently the biggest markets for project finance in the region.
Numerous Western banks are rushing in to take advantage of the boom. The GCC is where the projects are happening, says Muthuswamy Chandrasekaran, head of project and structured finance at Bahrain-based Gulf International Bank, or GIB, which has led the regional project finance league tables for four consecutive years. With the credit ratings of every country in the GCC steadily improving in recent years, many international banks find these countries more attractive to invest in than ever before, he says. As a result, commercial bank liquidity for GCC project finance transactions has been very good, which was reflected in the low interest-rate margins seen in several recent transactions.
With its team of a dozen specialists, GIB is the largest bank in the region to syndicate and distribute project finance debt. We understand and react quickly to developments in the GCC, Chandrasekaran says. In September GIB arranged a $235 million loan for Oman Gas to refinance the outstanding balance of a $410 million facility established in 2000. The margin on the new 6.5-year facility is 0.5% above the London inter-bank offered rate, or Libor.
GIB was a mandated lead arranger in both the Islamic and commercial-bank facilities for the Petro-Rabigh and Yansab financings in Saudi Arabia earlier this year. The bank also was a mandated lead arranger for the Al Waha Petrochemical project, which raised 100% of its commercial financing using an Islamic structure. There is an increasing interest among sponsors to include Islamic financing in project facilities, Chandrasekaran says. A number of Islamic banks are coming up, although most may focus on real estate rather than industrial projects.
The recent decline in oil prices is unlikely to dampen project finance activity in the region, according to Chandrasekaran. External lenders may look at oil prices, he says, but governments have been budgeting at much lower prices than exist today. Infrastructure projects are being promoted keeping in view the long-term interests of the local economy.
Saudi Arabia needs more power and water projects, which previously have been funded through government budgetary allocations, Chandrasekaran says. Through its privatization programs, Saudi Arabia is attracting new private direct investmentsequity as well as debt. In recent years, domestic institutions contributed a major portion of the funding for the projects in the kingdom. With the growing size of the planned projects, however, external funding will be needed on a large scale, he notes. Approximately 40% of project costs could still be domestically funded, he adds.
The $1.9 billion financing for the Shuaibah III independent water and power project, or IWPP, which combines a desalination plant with a 900-megawatt electricity generator on Saudi Arabias west coast, was well received by the international market last year. It involved commercial and Islamic portions as well as German and South Korean export credits. Meanwhile, the international bidding process has begun on two other major IWPPs in Saudi Arabia, Marafic and Shuqaiq. Several other water and/or power projects are at various stages of development in the UAE, Oman, Qatar and Bahrain.

Gordon Platt