NEWSMAKERS: UK
By Anita Awser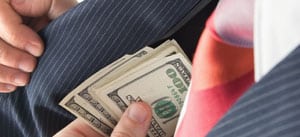 High risk: UK bribery law will affect companies worldwide
In a sign that regulators are clamping down on bribery and corruption in international business, from April 2011 the UK will implement what legal experts are describing as "one of the strictest anti-bribery regimes in the world." According to Neill Blundell, head of fraud at law firm Eversheds, the UK Bribery Act 2010 is even more far-reaching than the US Foreign Corrupt Practices Act of 1977. The British law not only applies to bribery of foreign public officials but also commercial-to-commercial bribery, and includes not only UK companies but also foreign companies that do part of their business in the UK.
"If you commit any form of bribery or corruption anywhere in the world, it can hold you to account even if you only have part of your business in the UK," says Blundell. Companies can be liable for failing to prevent bribery or corruption even if they had no knowledge of it, he adds, and even if it is committed by a third party, such as an employee, agent, subsidiary or intermediary, in another country. Blundell says the penalties are likely to consist of multimillion pound fines, and in some instances directors or company board members may be considered liable and even imprisoned.
With anti-bribery laws already strict in countries such as the US and the UK, the Bribery Act is designed to cover activities in emerging markets, where the potential for corruption is perhaps even higher. When it comes to detecting incidences of bribery and corruption, Blundell says the chances—and the costs—of getting caught are also becoming higher as information is often now shared between regulators. For example, in the case of financial services firms in the UK, the Financial Services Authority may share information with the Serious Fraud Office, which means a company could potentially be fined twice.
Blundell says companies will need to implement measures to demonstrate that they have adequate procedures in place to prevent bribery and corruption. That includes being able to demonstrate risk assessment, top-level commitment to anti-corruption measures, due diligence around any third parties, agents and intermediaries and anti-corruption policies covering corporate sponsorships and donations.