Comedian wins the Ukrainian presidential election.
Volodymyr Zelensky once played president on TV; now he gets to be one in real life. The comedian won the second round of Ukraine's presidential election in April, defeating incumbent Petro Poroshenko in a landslide. With no prior political experience and only a vague policy platform, critics say he could endanger the political and economic reform process. In his inauguration speech, he announced he would dissolve Parliament and hold new elections, saying, "People must come to power who will serve the public," according to Agence France-Presse. Prime Minister Volodymyr Groysman resigned days later in protest.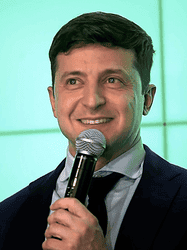 The 41-year-old newcomer's rise to power has been widely interpreted as a symptom of Ukrainians' strong dissatisfaction with the governing oligarchy, with some arguing that his win was a protest against his predecessor's failure to steer the country on a westward path, regain territorial unity and improve the economy. "I am not a politician," Zelensky said during the televised presidential debate held in Kiev's Olympic stadium two days before the vote, "I am just an ordinary person who has come to break this system."
Critics say the system needs to be improved. Poroshenko had made some headway on European integration, helped the economy recover after several years of negative growth, and had recently secured a $3.9 billion standby loan agreement with the IMF.
"Zelensky will face two major challenges," Alexander Motyl, professor of political science at Rutgers University, says. One is high expectations. "He will have to reduce corruption, increase living standards and remain democratic," Motyl explains, "all while dealing with the interference of the oligarchs, the indispensability of the IMF and the sensitivities of foreign investors." This is an almost impossible task, Motyl argues, especially for a neophyte. The second major challenge is Russian pressure on Ukraine and the occupied Donbass region. "Putin has already begun testing him [and] that pressure will only grow, as Putin will expect Zelensky to make mistakes."
Motyl does not believe Zelensky will be able to handle these challenges successfully. "In all likelihood, his popularity will decline precipitously as he is forced to pursue most of the policies of Poroshenko. That will be good for Ukraine, because Poroshenko was actually a successful president—but bad for Zelensky."