NEWSMAKERS: JAPAN
By Thomas Clouse
Yoshihiko Noda became Japan's sixth prime minister in the last five years after the lower house of parliament voted the 54-year-old finance minister into office on August 30.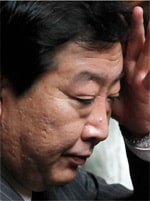 Noda is Japan's sixth PM in five years
Noda earned a reputation for fiscal responsibility as finance minister and has advocated an unpopular temporary increase in sales tax to boost government revenue. He also intervened in currency markets to weaken the Japanese yen, which rose to a post–World War II high against the US dollar in August.
Noda is the third member of the Democratic Party of Japan to serve as prime minister since the DPJ came to power for the first time in late 2009. Noda's predecessor, Naoto Kan, resigned from office after 15 months, making him the first person to serve for more than 12 months in the past five years. Kan stepped down amid criticism of his response to the earthquake, tsunami and nuclear crisis in Northern Japan last spring.
Noda will face numerous challenges. Japan's outstanding debt now stands at more than 200% of GDP, with an aging population that will push up expenditures and reduce the working population tax base. The appreciation of the yen has boosted export prices, reducing competitiveness in foreign markets. The country must rebuild after this year's devastating earthquake and tsunami, while readjusting its energy policy in the wake of the worst nuclear crisis in decades.
Noda beat out four other candidates for the job, and was not the most popular candidate, nor was he the choice of well-known DPJ party power broker Ichiro Ozawa. He came in second in the initial vote and won his office during the run off, as opponents of Ozawa united behind him. Noda must now bring these various factions of the DPJ together.
He must also reach out to opposition parties, a task his predecessor had difficulty accomplishing. "So far, opposition groups have shown no inclination to enter the so-called grand coalition which Noda has said may be necessary to ensure the passage of crucial legislation enabling Japan to deal efficiently with the aftermath of the March 11 earthquake and tsunami," says Sarah McDowall, North Asia analyst at IHS Global Insight. "The task of uniting the party and securing cooperation from opposition parties will be made all the more urgent given the scale of the current problems faced by the new prime minister."