NEWSMAKERS: UNITED STATES
By the Gordon Platt
Robert Greifeld, chief executive of Nasdaq OMX, has been the odd man out in the search for a merger partner to keep the New York–based stock market viable in a world where exchanges are consolidating at a heady pace in order to remain globally competitive.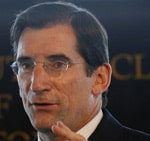 Greifeld of Nasdaq OMX: Planning a bid for NYSE Euronext
In a move that is either bold or smacks of desperation, Greifeld was trying to cobble together a counter-offer to the Deutsche Börse's friendly $10.2 billion offer for NYSE Euronext last month.
In a complex deal with numerous potential roadblocks, Greifeld was seeking funding for a bid that would create a combined stock market that would control nearly half of all equities trading and more than half of all options trading in North America. Greifeld also was seeking to enlist Atlanta-based Intercontinental Exchange (ICE) as a partner in his plan to derail the Frankfurt,Germany–based exchange's bid for NYSE Euronext.Nasdaq OMX planned to offer a 23% higher price than Deutsche Börse. As part of the envisioned deal, ICE would agree to buy NYSE Euronext's Liffe, which operates a global interest-rate futures business.
Greifeld has proven capabilities for cutting costs, and he might be able to create a dominant and profitable US market, assuming regulators and antitrust officials approve of his vision. Nasdaq OMX has less to offer than Deutsche Börse, however, in terms of extending the NYSE's global diversification and derivatives operations.
"There are significant antitrust issues involved,since the two New York–based markets compete for trading and listings," says Richard Torrenzano,chairman and CEO of the Torrenzano Group and a former senior vice president of the NYSE. "In my opinion, the Deutsche Börse's offer wins hands down," he adds.
Greifeld could be the last person standing when the music finally stops in the global game of musical chairs among the exchanges. That could make Nasdaq OMX the target of a future bid from overseas.