NEWSMAKERS: UNITED STATES
By Gordon Platt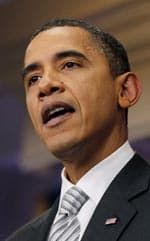 Obama: Changing course
President Barack Obama's tax deal with the Republican opposition and his efforts to woo business leaders demonstrate a willingness to compromise and suggest a new direction for his administration in the next two years. On the first day after the sobering midterm election, in which the Republicans took control of the House, the president signaled his desire to build bridges with the business community. The tax deal, which would extend the Bush-era tax cuts, was an even clearer sign that Obama is veering toward the political center in an effort to win passage of measures to boost the economy—and secure re-election in 2012.
"I think setting the right tone publicly is going to be important and could end up making a difference at the margins in terms of how businesses make investment decisions," Obama said in his post-election press conference. Last month, the president invited 20 prominent CEOs to Washington, including Jeffrey Immelt of General Electric, John Chambers of Cisco Systems, and Indra Nooyi of PepsiCo, to seek their advice on policy initiatives that will create jobs and help tackle the 9.8% unemployment rate.
US corporations are sitting on a more than $1 trillion of cash gleaned from rising profits, and Obama would like them to invest in new plants and equipment and, more important, to hire new workers. They are reluctant to do so, however, until they are sure that the economy will expand on a sustainable basis and that new regulations won't erode future earnings. Business leaders are becoming more confident as demand returns to the economy, according to the latest quarterly survey by the Business Roundtable. Some 80% of corporate CEOs surveyed expect sales to increase in the next six months, and 59% expect their companies to increase capital expenditures. Nonetheless, only 45% expect their companies to increase hiring in the next six months.
With Larry Summers stepping down as director of the National Economic Council, Obama has an opportunity to appoint a replacement to champion issues important to business, such as an overhaul of the cumbersome tax system and the promotion of economic growth to curb the deficit.