MILESTONES: UNITED STATES
By Anita Hawser
There is nothing quite like the threat of a debt default and a whopping budget deficit to focus policymakers' minds on cutting costs.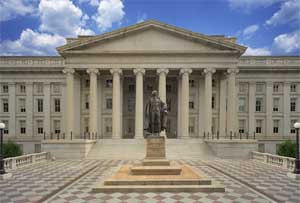 E–invoicing to reduce Treasury costs
In an effort to reduce the budget deficit, the US Treasury Department is swallowing some of its own medicine by implementing the administration's Campaign to Cut Waste, which was launched in June 2011. In early summer, the Treasury Department mandated that all treasury bureaus implement electronic invoicing by the end of 2012. By 2013 commercial vendors that supply these bureaus must also submit invoices electronically using the department's Internet Payment Platform (IPP).
The Treasury Department estimates savings of $450 million annually by reducing the cost of manually entering invoices and responding to invoice inquiries. "These governmentwide savings equal roughly one quarter of the $2.1 billion of the efficiency savings that the President's 2012 budget called upon agencies to identify," it stated.
Senator Tom Carper, chairman of the Subcommittee on Federal Financial Management, noted that the IPP was a "commonsense" solution that used technology to process, track and save money in the federal budget, benefiting the American taxpayer's wallet and the federal government's bottom line. "While there is no silver bullet to solve all of our nation's fiscal woes," he said, "this action is just one of many silver darts that we can use to better manage scarce taxpayer dollars."
In addition, vendors will benefit from quicker payment for their services, according to the Treasury. While consumers have embraced electronic billing, B2B e-invoicing adoption has been slow. In Europe the Nordic countries have e-invoicing embedded within online banking applications, and governments requiring that invoices be sent electronically.
The European Commission also set up an e-invoicing task force as part of its ambitions to build a Single Euro Payments Area. The Commission estimates that in the B2B space alone, €40 billion in cost savings and efficiencies could be made by moving to e-invoicing. In 2010, the EC announced new VAT (value added tax) rules for e-invoicing that removed one of the long-term barriers to wider e-invoicing adoption by granting equal treatment of paper and e-invoices.