MILESTONES: UNITED STATES/CHINA
By Gordon Platt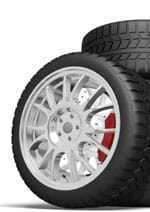 Tired: Trade spat rolls on
The fallout from the World Trade Organization's ruling last month that the US was within its rights in imposing import tariffs of up to 35% on Chinese tires to safeguard the US tire industry will have widespread repercussions. China reacted angrily to the ruling and said it would appeal. The danger is that Beijing will retaliate and put the US and China on a collision course in an already festering trade relationship.
"The US safeguard measures adopted toward Chinese tires are trade protectionism intended to shift domestic political pressure," China's commerce ministry said in a statement on its website. It added that it was deeply concerned about negative consequences on its industry from the WTO ruling.
US President Barack Obama imposed the duties on Chinese tires in September 2009 in response to a complaint from the United Steelworkers union. China said the safeguard measures were not in line with WTO rules. However, as part of its accession to the WTO, China accepted transitional remedies to address import surges that threaten disruptions in other countries. Immediately after the tire tariffs took effect in 2009, China imposed anti-dumping duties on the US poultry, nylon and auto-parts industries.
The WTO dispute-panel ruling came just as a team of Chinese negotiators was due to arrive in Washington for a meeting of the US-China Joint Commission on Commerce and Trade. It was greeted by news that US senators Sherrod Brown, a Democrat from Ohio, and Olympia Snowe, a Republican from Maine, filed an amendment to pending tax legislation that would punish China for currency manipulation.
The growing spat with China could have implications for the newly minted free trade agreement between the US and South Korea, too (see Milestone, South Korea .) That agreement would eliminate tariffs on more than 95% of industrial and consumer goods within five years. If the WTO's ruling on Chinese tires makes it clear to Congress that the South Korean trade pact will be toughly enforced, that accord may stand a better chance of passing, and free and fair trade could be the winner in the end.