Since becoming president in December, Shavkat Mirziyoyevhas embraced the West, the IMF and the EBRDnormalizingrelations with the countryafter a 10-year freeze.
Since becoming president in December, Shavkat Mirziyoyev has dispensed with the isolationism of his autocratic predecessor, Islam Karimov, who died last September.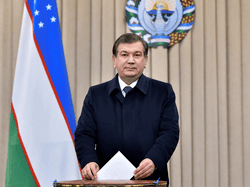 Mirziyoyev has embraced the West, the IMF and the European Bank for Reconstruction and Development (EBRD), which has normalized relations with Uzbekistan after a 10-year freeze. As president, he has visited neighboring Central Asian countries, including Kazakhstan three times, Turkmenistan twice and Kyrgyzstan at least once.
A summit with Kyrgyz President Almazbek Atambayev saw the two agree to properly demarcate their border and start work on the controversial Kambarata hydroelectric project on the Naryn River, which Uzbekistan had long opposed.
However, Uzbekistan's unexpectedly dramatic currency reform in early September—when it abolished the controversial two-tier foreign exchange system and devalued the som by almost 50% (to 8,100 to the US dollar; the rate will be reset each week), derailing a once-thriving black market—took many by surprise, although banks were well prepared with cash injections to enable them to meet any eventuality.
Jonathan Aves of the EBRD has welcomed the FX reforms, saying they will massively facilitate doing business and remove the previous lack of transparency, whereby access to foreign currency was a matter of knowing the right people.
"Things are really moving pretty fast; I'm impressed by the will, speed and overall understanding of the need for reform as well as the direction of it," Aves says, pointing out that although some within the establishment oppose reform, there is widespread recognition that Karimov's old statist system has run its course.
"I think the president understands that pursuing a policy of isolationism when you lie at the heart of Central Asia is self-defeating and that Uzbekistan has a lot to gain from re-engagement," says Aves, adding that boosting foreign direct investment—a tiny fraction of that in neighbouring Kazakhstan—is one of the new government's key priorities.
For its part, the EBRD is currently preparing a country strategy to enable it to pursue a range of new projects and is considering interim investments.