Brexit architect is Prime MinisterBoris Johnson's right-hand man.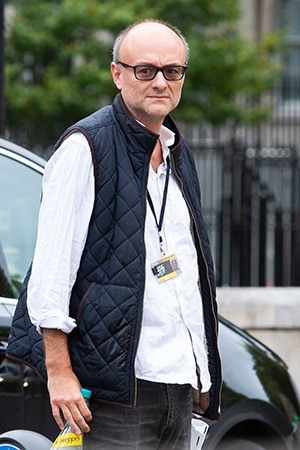 No sooner had Boris Johnson entered No. 10 Downing Street than he appointed Dominic Cummings, chairman and chief political strategist of the Vote Leave campaign, as his personal assistant. Johnson also stuffed the Cabinet with hard-line Brexit ministers, to ensure that Britain will leave the EU on October 31—deal or no deal.
Cumming' appointment is controversial. He had already won a reputation for manipulating social media, disseminating fake news during the referendum campaign and powerful slogans like Take Back Control. Furthermore, in March 2019, he refused to appear before a parliamentary committee investigating fake news, and thus stands in contempt of Parliament.
Such legal niceties don't faze Cummings, who has scant regard for either Parliament or the UK's nonpolitical civil service. In a June 2019 blog post, Cummings boasted that he and others pushed the referendum because then-Prime Minister David Cameron and top civil servants did not understand "many basic features of how the world works," adding "we knew that the systemic dysfunction of our institutions and the influence of grotesque incompetents provided an opportunity for extreme leverage."
So how did Cummings arrive at the very center of power? A Conservative insider says Cummings demanded control over Johnson's operation. He is now styled in internal memos as "assistant to the prime minister," in charge of Brexit and domestic policy. The same source describes Cummings' grip over No. 10 as a "reign of terror."
Like many admirers of "creative destruction," Cummings isn't concerned about what gets broken as long as his end is achieved. Cummings is said to have advised Johnson to hang on as prime minister, even if the government loses a vote of no confidence in the House of Commons, until after Brexit has been delivered on October 31, with an election soon afterward.
So who has "taken back control" in the UK? The answer, it seems, is the utterly unaccountable Dominic Cummings.