Fallout from Nissan ChairmanCarlos Ghosn's shocking arrest puts the future of three automakers at risk.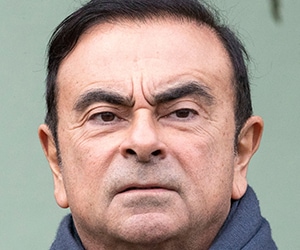 The shock arrest at Tokyo airport of Carlos Ghosn, chairman and chief executive of the Renault-Nissan-Mitsubishi Alliance, has thrown into doubt the future of the world's largest automotive group.
The alliance was forged and tightly controlled by the jet-hopping Franco-Brazilian-Lebanese businessman. Nicknamed "Le cost killer" for turnarounds at Renault, he has been celebrated as a superhero in Japanese comics for saving Nissan. There is no obvious candidate to replace him. Mitsubishi's chief executive, Osamu Masuko, commented, "I don't think there is anyone else on earth like Ghosn who could run Renault, Nissan and Mitsubishi."
Charged by Japanese prosecutors with underreporting his income, Ghosn is accused by Nissan of other "significant acts of misconduct," including spending millions of company funds for personal use. Both Nissan and Mitsubishi rapidly declared that Ghosn would be removed from their boards.
In stark contrast, Renault's board affirmed its "full support" of Ghosn and is keeping him on as chairman and chief executive, appointing COO Thierry Bolloré on a "temporary basis." In doing so, Renault defied France's finance minister, Bruno Le Maire, who said Ghosn should be replaced—at least in part because the scandal hampers his leadership. The French automaker is 15% state owned.
Nissan says Ghosn was exposed by a whistleblower. Renault has asked Nissan for all evidence against Ghosn "on the basis of the principles of transparency, trust and mutual respect set forth in the Alliance Charter."
The nearly 20-year-old Renault-Nissan alliance is built on cross shareholdings. Renault owns 43% of Nissan, which gives it significant power—including the appointment of top executives. Nissan's 15% holding in Renault has no such benefits or voting rights. Nissan also owns 34% of Mitsubishi.
Ghosn is believed to have been planning a full merger of the three entities so as to render the partnership "irreversible" and increase synergies such as shared sourcing and manufacture.
Renault declares it remains "particularly focused on the consolidation of the Renault-Nissan-Mitsubishi Alliance." But Nissan's chief executive, Hiroto Saikawa, has expressed his company's opposition to a full merger, and immediately after Ghosn's arrest appeared to distance himself from the previous regime. A tussle for control seems inevitable—and without Ghosn as linchpin, the alliance could fall apart.