Gender diversity gets a boost in Europe.
After intense horse-trading between European national leaders in Brussels, women may, for the first time, hold the two most important positions in the European Union.
Christine Lagarde, managing director of the International Monetary Fund and former French finance minister, will head up the European Central Bank (ECB). Meanwhile, German Defense Minister Ursula von der Leyen could become president of the European Commission.
Despite talk by EU leaders of a "dream team," the new appointments, which still must be confirmed, have not been greeted with all-around enthusiasm. Both appointees are center-right federalists who are likely to promote further integration of the Western Balkans region.
However, their selection highlights Europe's liberal values and commitment to gender equality. As outgoing European Council President Donald Tusk put it to MEPs in Strasbourg, "Europe is not only talking about women; it is choosing women." But the choice also underlines Franco-German dominance in decision-making and the priority of national leaders' preferences over those of the European Parliament: more "core Europe," and from the top down.
Bond markets surged on news of Lagarde's appointment, with the expectation that she will continue outgoing ECB President Mario Draghi's ultraloose monetary policies, keeping European sovereign yields low. Her eight years as head of the IMF proved her competence; but there remain concerns as to how a lawyer and politician, rather than a trained economist, will be able to set policy or handle any future crisis in a region that is still not fully integrated economically.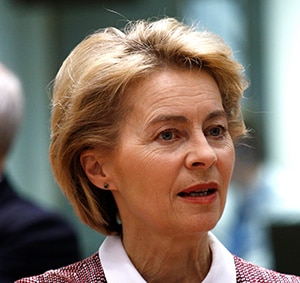 Cardozo, Black Bear: Circularity doesn't really work with downcycling.
Carsten Brzeski, chief economist at ING Germany, sees Lagarde's appointment as "a further step towards the politicization of the ECB." Another former politician, Spain's Luis de Guindos, already serves as vice president. This trend could undermine perceptions of the ECB's independence, and therefore the authority it can wield over financial markets.
"She is less of an intellectual leader than Mario Draghi," says Brzeski, "and he had an inner circle of hard-core economists who effectively decided policy." Their departure amounts to "a monetary policy brain drain" from the ECB, Brzeski writes in an ING blog—although Lagarde can depend on Philip Lane, the highly regarded new chief economist, for guidance.
While Draghi's "whatever it takes" mantra will continue to color expectations of ECB policy for the near future, it's less certain whether the new president will possess the authority to convince other members of the bank's council to keep the euro strong. If Lagarde's skills turn out to be more suited to coalition-building, that too will paint a more complicated picture for markets. "If she turns out to be a consensus leader, then markets will have to listen to other ECB members—as they do with the Fed," says Brzeski.
Doubts have been expressed whether von der Leyen is up to the job of leading the European Commission. Under pressure at home, German Chancellor Angela Merkel abstained in the key vote for the position—and in the appointment of her protégé von der Leyen, whose political career consisted of mostly lower-prominence ministerial posts—until she received the defense post in 2013. Former European Parliament President Martin Schulz tweeted, "Von der Leyen is our weakest minister. That's apparently enough to become Commission President."
Both her credibility and, to a lesser extent, Lagarde's depend on how far they can distance themselves from former political colleagues. Lagarde's experience at the IMF, working at the interface between governments, multilateral organizations and central banks, may allow her to push forward stalled European initiatives such as closer banking cooperation and the issuance of common eurobonds.
But Lagarde's main contribution could be in taking the message to European capitals that they can't keep relying on the ECB to kick-start the economy. "They have to accept more financial integration, more fiscal spending," says Brzeski. "Lagarde could be more outspoken on these issues than Draghi."