NEWSMAKERS: JAPAN
By Luca Ventura
When Michael Woodford was promoted to president and then CEO of camera and medical equipment maker Olympus Corporation earlier this year, analysts and investors had high hopes for the future of the 92-year-old Japanese firm.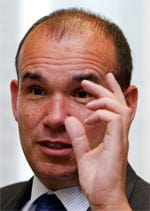 Woodford tossed out after questioning dubious deals
After less than eight months on the job, Woodford, having questioned a series of dubious deals, was voted out by the company's board. Investigations by law enforcement agencies in US, UK and Japan followed—along with the destruction of billions of dollars in shareholder value.
But after denying any wrongdoing for weeks, Olympus on November 8 admitted to having used acquisitions and transaction fees to hide 20 years of losses.
Corporate scandals are hardly new in Japan, but the Olympus case highlights, among other things, a clash of cultures and management styles rarely seen before. Foreigners at the top of Japanese blue-chip companies are still an exception, and Woodford—a British citizen—had joined a small but prestigious club that includes the CEO of Sony, Howard Stringer, and the president of Nissan Motor, Carlos Ghosn.
By appointing him, however, the Tokyo management got more than it had bargained for. Woodford had made his reputation by successfully restructuring Olympus's European division. This expertise helped him to unveil the acquisition, between 2006 and 2009, of three nonlisted Japanese companies with no revenues and questionable assets. At a price tag of $773 million, their value was written down by 76% a year later. Woodford also queried the takeover of UK's medical instruments company Gyrus Group for $1.92 billion—and particularly the $687 million transaction fee paid to the advisers: 36% of the entire purchase versus the usual 1% to 2%. The two consulting firms and their Cayman Island accounts were quickly dissolved after the deal closed.
While investigations continue, the scandal could ultimately lead to the delisting of Olympus from the Tokyo Stock Exchange, and some executives could face jail time. More broadly, it has reignited the debate concerning the quality of corporate governance and the presence of too few independent directors on company boards in Japan.