GLOBAL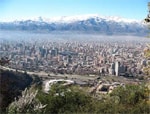 Place of principles: Santiago, Chile's capital, where the funds agreed to a series of standards.
The International Working Group (IWG) of 26 member countries of the International Monetary Fund last month released a statement of Generally Accepted Principles and Practices, or GAPP, for sovereign wealth funds. With some $3 trillion in assets, SWFs comprise a major source of liquidity for the global financial system.
Known as the Santiago Principles, after the capital of Chile, where agreement on the text was reached, the accord could provide a framework for good governance and transparency for SWFs, while helping to fend off protectionism by governments of countries where investment targets are based. The proof will be in the pudding, however, and it remains to be seen how many of the funds will actually sign up for and implement the principles.
"Though some of the funds have been operating quietly for decades, their sudden rise to prominence over the past 18 months has fueled some anxiety in the West about the possibility that their investments could have a political as well as a financial dimension," says Jerry Leamon, global services leader at Deloitte Touche Tohmatsu. "The creation of the IWG was intended to confront this anxiety head on and to help diffuse it," he says.
"GAPP for sovereign wealth funds is potentially a real watershed event in promoting better understanding of these funds in their home countries and in the countries where they choose to invest," Leamon says.
Ironically, the agreed principles come at a time when SWFs may shift their investment focus to closer to home as a result of the global financial meltdown. SWFs will likely seek to invest in domestic companies that are capable of going global, according to Eckart Woertz, an analyst with the Dubai-based Gulf Research Center.
An international Standing Group of SWFs will be created in 2009 to promote implementation of the Santiago Principles.
Gordon Platt