One-click ordering at Amazon, fast transfer via Facebook chat or Alibaba, service status tracking in Uber, information autofill in Google - these are just a few of the innovations that have raised users' expectations in terms of service standards. This also applies to the financial sector and institutions, such as Credit Unions, whose customers want to use modern technologies. Are the smaller banks ready for this?
---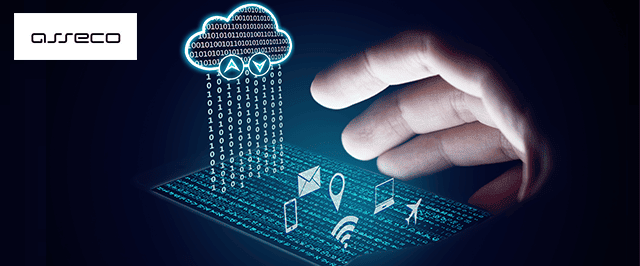 Artificial intelligence and virtual advisors, authorization of transactions with the use of face or voice identification – it is not a futuristic vision of the world, but the solutions that are already being implemented by banks all over the world. All this to meet the growing expectations of customers who have never been as demanding as they are today. Being accustomed to a growing number of new benefits of modern technology, customers want to use them also when managing their finances. Why? Because today they treat them as a standard.
Banks are responding to these challenges with increasingly more advanced products, services and customer service methods. This is how they want to stand out in the market. This in turn means that significant investments are needed in IT systems, which are often a challenge even for the largest players in the banking sector. So how can smaller financial institutions like Credit Unions face these challenges? How can they keep pace with these changes when large banks do not always manage to do so? Are they doomed to remain in an analogue reality?
Omni-channel in Cloud
There are already solutions on the market that enable small financial institutions to effectively face these challenges. Over 120 cooperative banks already use them in Europe. Thanks to Asseco, they can take advantage of systems enabling quick response to changing needs of individual and business customers, while at the same time reducing costs. These include systems that support the work of advisors – such as the Asseco Advisory Banking Platform (Asseco ABP) – and the ones dedicated to on-line and mobile banking – such as the Asseco Customer Banking Platform (Asseco CBP). In turn, the Asseco Enterprise Banking Platform (Asseco EBP) has been created with the SME and corporate clients in mind.
Asseco's solutions have been developed on a single platform enabling implementation of the omni-channel strategy, that has become a pillar of development of the banking sector worldwide. It integrates digital and traditional channels of bank communication into a coherent environment, ensuring uniform and interconnected service processes. Among other things, it enables banks to gain competitive advantage, maintain loyalty of their existing customers and acquire new ones, as well as to get to know their needs and preferences.
Less costs, more benefits
All systems developed by Asseco are available as SaaS (Software as a Service) cloud solutions. In this model, a bank does not incur investment costs associated with hardware and software infrastructure, but only monthly subscription costs depending on, for example, the number of transactions or the number of users of the system. In addition, it gains a solution that ensures a high level of security, which gives the possibility to build truly modern banking services. It is also worth noting that a bank that decides to use these solutions does not have to be competent to administer the system. Nor does it have to worry about the lack of availability of IT specialists, or about the constantly growing costs of their employment. In addition, moving banking software to the cloud is faster than installing a classic system. It is also more convenient as all infrastructure issues are the responsibility of the supplier. A bank does not need to have a backup center because everything is already in the cloud. Asseco's solutions also ensure a very high level of security, as we, as a professional IT provider, do not make compromises in this area.
All devices, one solution, the same experience
Owing to the cloud, Credit Unions can now benefit from systems that until recently have been available only to the largest banks. A good example is Asseco CBP, which makes it possible for clients to manage their finances conveniently, regardless of whether they use a computer, tablet or smartphone. The appearance, functions and logic of individual operations are the same for all devices, so that the user does not have to learn how to use the new system on each of them separately. There are no limitations in the range of available functionalities so the same range of operations is available for example on a smartphone and on a computer.
Asseco CBP is based on the innovative concept of mini-applications, that provide unlimited opportunities for making personalized products and services available to a bank's customers. The concept provides freedom in the selection of apps and layout and allows the users to create, among other things, shortcuts for the most common transactions in order to be able to execute them with a single click. Owing to this, customers can configure their banking system in a way that is ideal for them, so that it can be used quickly and conveniently.
Paperless banking for business
Modern banking requires a fresh look at a company and ensuring its effective and safe financial management. Such possibilities are offered by Asseco EBP, a comprehensive on-line banking solution dedicated to companies. The system provides an individual approach to the requirements of a company and can be easily adjusted to the size, scale and specificity of its business. It enables, among others, efficient management of financial liquidity through active monitoring of transactions in various currencies, forecasting of bank account balances, safe management of funds and analysis of revenues and expenses. With a full view of all accounts, the users gain a complete knowledge of the financial situation of their business. It is also possible to create authorization groups and authorization templates for individual users. Asseco EBP also makes it possible to improve communication with a bank and the process of handling bank applications. At the same time, it ensures integration with financial and accounting systems of corporate clients and security of executed transactions. In combination with Asseco ABP, it allows to pursue an end-to-end approach to more complex banking products, such as guarantees, letters of credit, and factoring.
The open architecture of Asseco EBP ensures flexible expansion of the mini-applications catalogue, thanks to which all banking functions can be arranged in any number of ways and then made available in parallel to individual customer segments – according to their needs and preferences. The customers, on the other hand, can choose, remove or reorganize the appearance and functionality of their banking service, depending on their needs.
360° client view
In recent years, we have witnessed a revolution in the way banks and Credit Unions service their customers, which is based on digitization of banking processes such as video chat or new concepts of service for bank branches. Its implementation is possible thanks to Asseco ABP, which supports a bank's employees in all communication channels. It provides comprehensive and effective support for branches, call centers and even advisors operating in the field. It provides a single, intuitive user interface to financial services retailers, which greatly enhances their performance, improves customer service and enables them to focus on product sales. Thanks to the mini-applications, a bank is also able to fully adjust the functionality of the system to the requirements of the function performed by an employee.
Asseco ABP enables banks to implement modern methods of customer authentication, both in a branch and in direct channels, such as biometrics of voice, face and fingerprint. The system also uses the beacon technology, which allows for effective support for interaction with a customer who visits a branch. In the basic version, it can for example mean sending a welcome message to a smartphone or providing a customer with a satisfaction survey. More advanced version allows to manage a waiting queue or transfer personalized information about a bank's new offer.
Technology for business, solutions for people
Omni-channel cloud banking has been radically changing the way banks operate in terms of acquiring, servicing and retaining customers. This can be seen very clearly in the case of financial institutions taking advantage of the opportunities offered by Asseco Poland's solutions, that correspond to the latest IT trends in the world of banking. The company is the 6th largest producer of software in Europe and leads international Asseco Group, which operates in 54 countries and employs over 24,000.
Banking and finance are one of the most important pillars of Asseco's operations. For over 26 years, the company has been specializing in information systems for the banking sector, where it has a very strong position all over the world, especially in Europe and Africa. It has competence centers in Poland, Portugal, Russia, in the Balkans and Slovakia, as well as in Denmark, Israel and the Czech Republic. Thanks to investments in R&D, it develops, among other things, innovative omni-channel systems, which allow banks to be always close to their customers. The fact that approx. 800 banks use Asseco's solutions confirms the company's competence and experience.
Sponsored by: