Named "2023 Best Debt Bank in the Middle East" by Global Finance, Kamco Invest is well-positioned to drive innovation and growth in the region's capital markets, says Abdullah AlSharekh, Managing Director of Markets & Investment Banking.

The regional investment banking market has demonstrated exceptional growth, proving its resilience and fortitude in the face of economic challenges. As regional economies continue to evolve and mature, financial markets offer exceptional growth opportunities for innovators within the financial services sector. Kamco Invest is one of the innovative players that are poised to capitalize on such opportunities through its diverse platforms and vision, paving the way for a new era of financial prosperity.
Being a regional non-banking financial institution based in Kuwait, Kamco Invest has emerged as an investment banking leader in the country. Throughout 2022, the Company played a significant role in 13 investment banking transactions worth USD5.6bn. Demonstrating its broad market expertise, the transactions included 7 M&As, 2 equity capital market transactions, and 4 debt transactions, including sukuk issuances.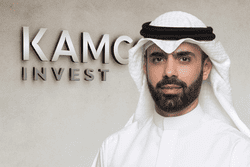 "2022 marked another record year for our investment banking business in terms of the total value of completed transactions," said AlSharekh. "These transactions highlight the strength of our strategic advisory services, technical capabilities, multi-sector expertise and placement power, which enable us to successfully structure and execute complex, high-value transactions for our clients that support their business objectives."
Debt market innovation
In recent years, Kamco Invest solidified its position as a local and regional pioneer, with leading roles in some of Kuwait's milestone transactions.
In 2022, Kamco Invest's Debt Capital Markets team was both Joint Lead Manager and Joint Bookrunner on three bonds and sukuk issuances in Kuwait and the UAE worth a combined USD1.2bn, in addition to one debt advisory transaction. These transactions included USD650mn international debt Issuances and a KWD165mn debt issuance, the largest Kuwaiti-dinar-denominated corporate bond ever issued.
Building its reputation as a debt capital markets pioneer, in 2021, Kamco Invest acted as Lead Manager and Structuring Advisor to Gulf Insurance Group's debut issuance – KWD60mn in perpetual non-call 5 subordinated Tier 2 bonds. Structured as an innovative debt capital instrument for the local capital market, this was the first bond issuance by an insurance company in the Kuwaiti market and the first perpetual bond issuance denominated in Kuwaiti Dinar. In total, Kamco Invest closed 10 debt transactions worth USD3.7bn in 2021, managing 9 bond and sukuk issuances in Kuwait, Saudi Arabia, Oman and Bahrain and a USD330mn debt advisory transaction.
"We are honored to be named as the "Best Debt Bank in the Middle East" by Global Finance, based on our market share and reputation, the number and size of our deals, advisory and structuring capabilities, distribution network, innovation, and the performance of our underwritings," said AlSharekh.
Dynamic future for Kuwait's financial markets
Since its establishment in 1998, Kamco Invest has acted as investment banker on M&A deals, ECM and DCM transactions amounting to USD 35.0bn. To explore growth opportunities, Kamco Invest expanded its regional footprint to cover new markets, including offices in Saudi Arabia and the UAE, as well as a representative office in Turkey, further strengthening its position as one of the key investment banks in the Middle East.
"Kamco Invest is focused on creating strong, innovative and sustainable financial structures that add value for its clients and the market as a whole," said AlSharekh. "With a robust pipeline of financial transactions and innovative solutions, Kuwait's financial sector continues to drive growth and development in the region and the future looks bright for this dynamic market."
We believe Kuwait's financial sector has started taking the right shape with a number of plans and policies in pipeline. The Boursa Kuwait has been instrumental in implementing changes required to upgrade Kuwait to an Emerging Market status with MSCI and these changes were done at one of the fastest paces when compared to regional peers. We have seen future plans for the introduction of additional products in the Boursa Kuwait including futures and options, derivatives, as well as fixed income products. There is also an increased focus on ESG requirements, and this will enable us to future-proof us for managing global funds, especially in light of KIA's resolve to be completely ESG compliant in its investment efforts and portfolio in the near future. Moreover, future plans to build Kuwait as the regional financial hub looks commendable and we trust that the regulators and the government would take the right steps at right time to enable the transformation.
Sponsored by: