In November 2018, Global Finance magazine named the BPS-Sberbank's internet unit—Sberbank Business Online—the Best Digital Corporate Bank in Russia, Central and Eastern Europe. The unit also succeeded in three corporate sub-categories for Central and Eastern Europe: Best Online Portal Services, Most Innovative Digital Bank, and Best Integrated Corporate Bank Site.

Sberbank Business Online is the Internet Bank of Choice for Russian entrepreneurs—and the experiences of three business owners underscore this position.
Vladimir, age 39, explains his relationship with Sberbank Business Online as he walks about his factory, which fulfills orders from throughout Russia for plastic molding. Located approximately 50 km from Moscow, it is one of Russia's oldest molding factories and has operated since he and his father launched it in the 1990s at roughly the time when the former Union of Soviet Socialist Republics (USSR) collapsed. The family has built it into one of Russia's leading production companies, with yearly sales of approximately 200 million rubles. Today, the company's moldings are used and sold across the country—literally from Moscow to Vladivostok.
Vladimir has worked with Sberbank since before the digital bank era. "When we were to choose a bank to work with, we simply picked the one with the nearest located branch,"he recalls, and Sberbank was the closest. Later, he became one of the first clients to switch to Sberbank Business Online. "Everything's changed a lot in the last several years," he says. Telephone calls and real-time bank visits are no longer necessary since he carries out all transactions online, allowing him more time for managing his business.
Vladimir says that these changes are critical because he tries not to miss anything connected to his operations. His company is his life, and he lives with his family in a three-story townhouse near the factory. He walks to work every day and works on a bench with his tablet outside the factory, weather permitting.
Explaining his relationship with Sberbank's online operation, Vladimir says that using the intuitively simple, fast and convenient internet bank transactions saves him time for focusing on his day-to-day work.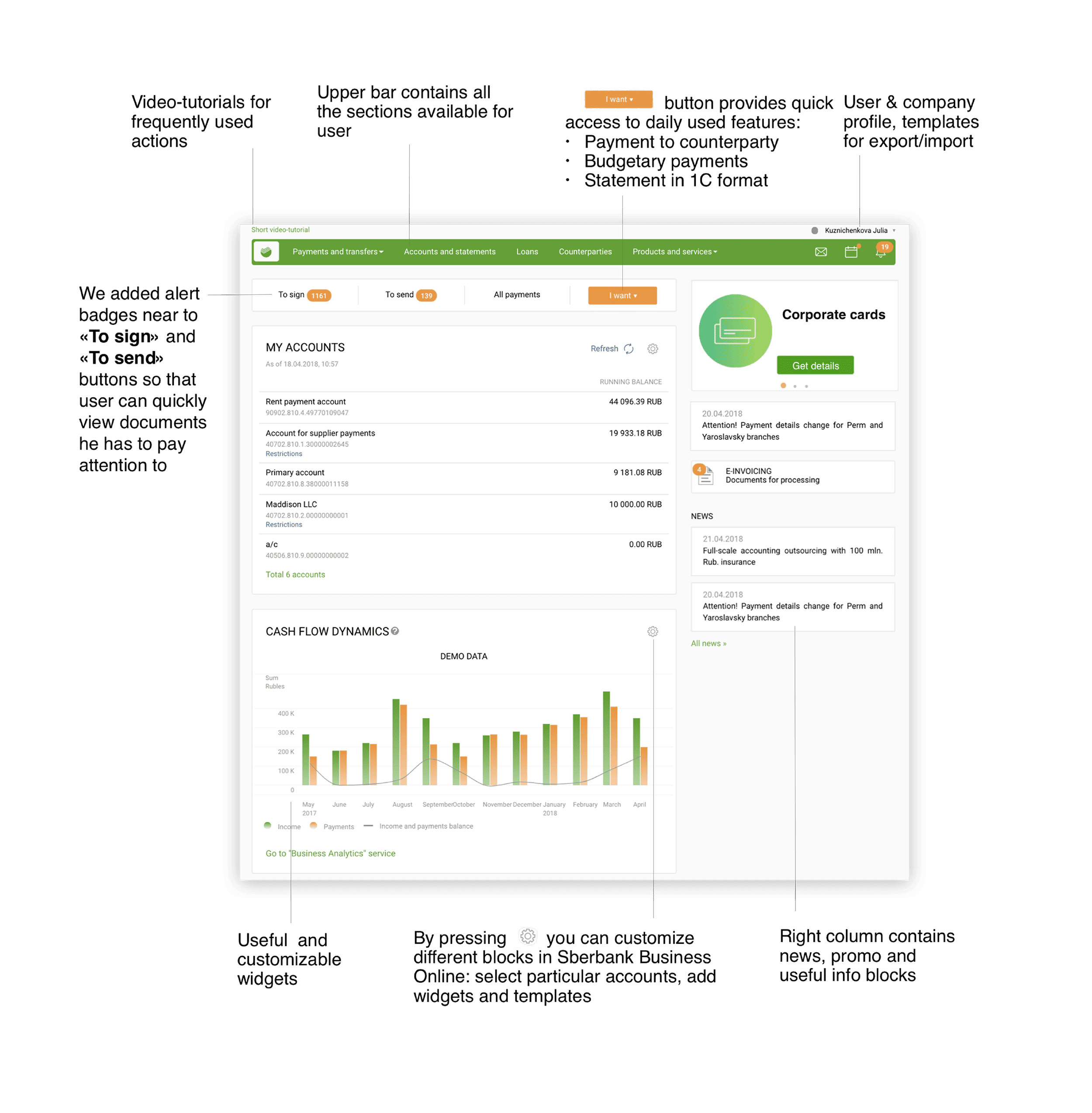 Olga, age 60, has run her dream business for 15 years. Although she trained as an engineer, she decided to launch her own beauty parlor on the outskirts of Moscowin a newly-built residential district. Olga's business worked well in the early years, and her establishment became quite popular among locals. It is consistently fully booked, so patrons have to make appointments well in advance. This kind of business demands the owner's constant involvement, a fact driven home while she was vacationing in another country. "I had to make some routine operation—like send a pay slip to the bank," she recalls. She learned that she could create a new user file and grant access to her internet bank. Otherwise, she would have had to go to the bank with a huge amount of documentation. "Now, all you need is to fill out the data and approve it with an electronic signature!" she says.
Online banking has brought many changes for Olga. Previously, she worried about being away from her business for as little as half a day. Now, Sberbank Business Online's innovations freeher to travel and she can manage transactions remotely. She values the flexibility of being able to control and manage transactions from any place in the World'simply by using her tablet. "[It] might be that somewhere people already got used to things like that, but for Russia, where relationships between banks and business are traditionally regulated by hundreds of thousands of rules, such [an] option is literally a breath of fresh air for entrepreneurs," she says.
Stanislav, age 34, never previously thought about issues like market share and strategy. As a technical specialist, he had only to concern himself with his own tasks. Several years ago, he opened a small coffee shop near the Volga River bank. As is frequently the case with start-up entrepreneurs, he had to do everything: standing at the bar, roasting beans and brewing the coffee. After a while, however, his income began to drop, and the business became more of a problem rather than a source of entrepreneurial pride. "It was time to change the tactics," he recalled. With Sberbank's help, he raised funds for a new concept coffee shop in St. Petersburg. His espresso bar has a 360-degree view of the city and a lounge in the area where the coffee beans are roasted.
However, Stanislav didn't stop there. He created a market for the rental and sale of coffee roasters, and developed a chain of espresso bar franchises and master classes in the coffee shop business. To make his business tasks more manageable, he switched to Sberbank Business Online's "Payment Calendar" formatwhich tracks events, taxes, payrolls, payments and other information that he needs all in one place. How does he manage to find the time? The answer is simple. "I carefully keep my eye on the services, which helps to develop my business today," he says. Stanislav appreciates the fact that so many functions can be executed through the bankand he has saved even more time by switching his corporate account to the "Payment Calendar" format.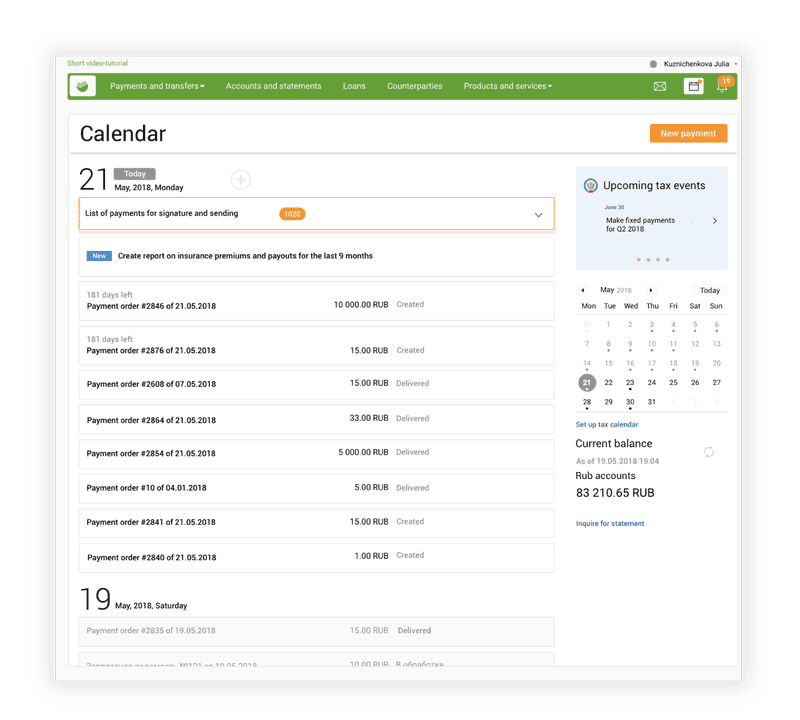 Entrepreneurs like Vladimir, Olga and Stanislav make up almost 80% of Sberbank Business Online's 2 million customers. "When your bank helps you start your own business, raise funds, build and automate processes, and advertise, obstacles to a new business disappear," explains Eugeny Kolbin, the director of Sberbank's Digital Corporate Bank division.
Today, Sberbank Business Online is the bank of choice for almost half of all small-to-medium size enterprises currently registered in Russia.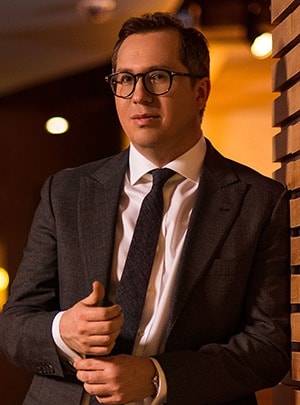 There is a boom underway in the digital corporate banking industry in Russia, Kolbin believes. "A lot of new and very progressive banks have emerged lately, and their systems are really good in terms of user experience and user interface," he says.
However, the functionality of such systems is oftenvery limited, and this type of bank does not have enough features to serve large corporations.
Kolbin came to Sberbank from a large Western bank and immediately relaunched the existing internet banking operation. As a top manager,he participates in the continuing development of Sberbank Business Online.
This means dealing with developers at demo meetings, analyzing feedback and testing new features.
"The global trend for digital transformation led us to the fact that starting your own business [has] become really affordable for most people," Kolbin says. He believes that the possibility of starting a business from home has opened up countless opportunities. "Today, the situation is changing and internet banks are being increasingly perceived as'windows of opportunities' and used by clients on a daily basis."
"We make our internet bank not just user-friendly and convenient for everyone, but we also try to anticipate clients' actions and help them to make the right choice in decision-making," Kolbin explains. For example, the bank will check on a counterparty to ascertain business risks that might important to know at an early stage, and can offer escrow services when the deal closes.
"We are changing ourselves and changing our country. We provide people with the opportunity to do something they only dreamt about—starting their own business." —Eugeny Kolbin
Sberbank Business Online provides value added services and offers a total of 30 such services to address every client's need at every stage of a company's life cycle. "We are changing ourselves and changing our country. We provide people with the opportunity to do something they only dreamt about—starting their own business," says Kolbin.
---
About Sberbank Business Online
The largest digital bank for corporate clients in Russia, Sberbank Business Online was relaunched in December 2016. Among the system's functions are classic Cash and Settlement services, online loans, buying currencies with option of special conversion rates, foreign trade, payroll programs, managing business cards, cash-in services, acquiring, integration with the most popular account systems in Russia and much more.
The latest version was created with design and user experience as the main items of development for the platform. Key features include new options for interaction with the bank: setting different users' access rights, payment calendar, eFX, ecosystem of digital services for managing and developing your business.
At the moment, the internet-bank has more than 2 million clients-legal bodies and individual entrepreneurs. Every day with the help of Sberbank Business Online about 2.15 million transactions are being made.
Sponsored by: