Bridge Bank Group Côte d'Ivoire (BBG CI) has emerged as a major player in the nation's banking industry and a supportive financial partner to the region's economically important SME sector. Ehouman Kassi, BBG CI's CEO, discusses the bank's new portfolio guarantee agreement with the African Guarantee Fund and expansion of its successful SME strategy.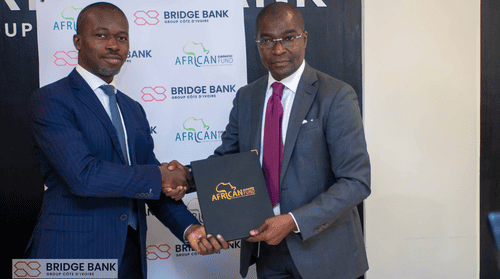 Since entering the Ivorian market in 2006, BBG CI has been committed to providing innovative and convenient banking solutions to small and medium-sized enterprises (SMEs), which are the centre of our commercial banking strategy.
The goal of our SME banking strategy is to provide specialized financing solutions to strengthen the SME business segment, create jobs, and support stable and inclusive economic growth in Côte d'Ivoire and the West African region. To support our efforts to address SME financing needs, BBG CI has made several significant and strategic financing agreements focused on SME funding.
Financing for Local SMEs, Women & Sustainable Projects
BBG CI recently redefined its partnership with the African Guarantee Fund (AGF) with a newly signed portfolio guarantee agreement that increases the global coverage level from CFAF 5 billion to CFAF 15 billion to more effectively support SMEs in the local and sub-regional economy. The agreement is characterized by a 50% default guarantee coverage for the principal amount for standard facilities and 75% for those granted to women entrepreneurs or "green" projects.
Through this agreement, we expect BBG CI to increase the level of its commitments to very small enterprises (VSEs) and SMEs by a minimum of CFAF 20 billion over the next months and CFAF 60 billion for the duration of the program. There are approximately 1,500 VSEs and SMEs eligible for this financing, and more than a third of these meet the female entrepreneurship criteria. To date, VSEs and SMEs represent CFA 125 billion, or 31%, of BBG CI's assets portfolio, while women entrepreneurs represent CFA 43 billion, or 11%, of our financing to customers.
Expanding SME Portfolio & Coverage
The AGF portfolio guarantee agreement reinforces BBG CI's mission to support SME development through customized financing solutions that meet their increasing and evolving needs. It also allows us to further expand our portfolio of eligible SMEs and, by integrating BBG CI's new Senegalese branch, extend coverage to SMEs in both Senegal and Côte d'Ivoire. We launched our West African expansion strategy with the opening of our first Bridge Bank Senegal branch in December 2021.
Some of BBG CI's previous major financing agreements supporting our SME strategy include a trade guarantee line under International Finance Corporation's Global Trade Finance Program for EUR 20 million and a EUR 10 million Murabaha financing agreement with International Islamic Trade Finance Corporation as part of the organization's West Africa SME Program.
Evolution of the Ivorian banking market and its regulatory framework have led BBG CI to continually diversify its range of products and services to better serve its corporate and SME customers. Today, BBG CI is Côte d'Ivoire's 9th largest bank with more than CFAF 700 billion in total assets and a deposit base over CFA 500 billion as well as total shareholder funds of nearly CFA 53 billion and CFAF 12.5 billion in capital.
Strategic Commitment to Excellence & Innovation
All of BBG CI's initiatives share a common goal: we are focused on providing the highest quality corporate banking, innovative solutions tailored to the unique needs of each business, and customer-centric service.
Beyond its business growth, BBG CI is compliant with banking and governance best practices, including implementation of a rigorous risk management policy to guarantee portfolio quality and protect depositor funds. The bank has renewed its ISO 9001:2015 certification, indicating that its management system meets the requirements of this important international standard for quality.
As a result of its commitment to excellence, BBG CI has received a "Pépites de l'Accueil" ("Welcome Nuggets") award for outstanding customer service by L'Académie des Service four years in a row and was named "Best Bank in Côte d'Ivoire" in 2021 and 2022 by Global Finance.
Sponsored by: