A leading provider of Sharia-compliant financial solutions in Egypt, ADIB Egypt spearheaded the country's launch of Sukuk issuance, promising to increase Islamic banking and stimulate economic growth. Mohammed Aly, CEO of ADIB Egypt, discusses the bank's role in Egypt's approval of sovereign Sukuk issuance and the anticipated benefits for Sukuk issuers, market liquidity & sustainable finance.

Global Finance: Why are Sukuk important to Islamic banking in Egypt?
Mohamed Aly: Sukuk are Sharia compliant financial instruments used for fund raising. They play a significant role in economic and social development, especially in countries with large Islamic populations.
Sharia compliant financial instruments cater to both conventional and Islamic segments widening the banking sector's customer base and bringing more liquidity into official circulation. Islamic banking in Egypt currently accounts for 6-7% of the banking industry, Sukuk issuance will both increase the market share of Islamic banking while simultaneously expanding the entire banking sector by attracting funds that were previously out of official circulation. Ultimately this accelerates financial inclusion, the key economic goal for Egypt 2030 Vision for sustainable development.
GF: What was ADIB Egypt's role in getting the Sovereign Sukuk Law approved by Egypt's Parliament?
MA: ADIB-Egypt has been at the forefront of Egypt's efforts to issue Sukuk from the very first stages. Driven by our commitment to back the Egyptian government's plans to issue Islamic Sukuk, we are dedicating comprehensive cross-functional support to provide top-notch expertise covering all aspects of the banking industry.
In 2019 we were assigned by the Ministry of Finance (MoF) as the advisory bank to help develop the regulatory framework for Sukuk issuance, alongside Ministry officials and the Central Bank of Egypt and we've led high-level discussions with key organizations including Al Azhar University and the Ministry of Justice.
Following the Cabinet's approval, ADIB took part in the Parliamentary Economic Committee in charge of discussing pre-ratification of the law. Once the Sovereign Sukuk Law was ratified in August 2021, we focused our efforts on developing the executive regulations to lay the groundwork for implementation.
We're proud of our role in helping these regulations and executive guidelines come to light and we're particularly proud that we've ensured asset-based versus asset-backed issuance, which minimizes risk and promotes stability.
GF: What impact do you think sovereign sukuk issuance will have on Egypt's economic development and Islamic financial markets?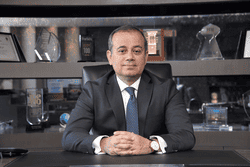 MA: From 2010 to 2020, Sukuk issuance increased by 164% from $53 billion to US$140 billion per year, and Egypt's anticipated Sukuk issuance is set to bring a host of benefits to the country's economy.
Islamic finance worldwide has substantial liquidity, with the current figure standing around US$3 trillion, of which the Sukuk market is around US$750 billion. Organizations are actively seeking Sharia-compliant instruments. Issuing Sukuk allows Egypt to tap into this dynamic and sizeable market and, moreover, financing via Sukuk is often lower cost compared to conventional instruments.
Another important point is that Sukuk provide access to Sharia compliant capital flows in both local and foreign currency, helping provide a valuable forex resource. Sukuk also optimize the country's debt profile by widening and diversifying the investor pool, offering the MoF an additional liquidity management tool.
On another level Sukuk are structured to avoid high degrees of leverage and speculation, and with tenures ranging from 2-3 years and up to 30 years, they promote a sounder financial system offering sovereigns a long-term and stable source of finance strengthening economic sustainability and resilience.
Last but not least, from a socially responsible finance perspective, Sukuk are ethical instruments – they cannot be used to finance activities like gambling, tobacco, and weapons manufacturing, which advances sustainable social development along with economic growth.
GF: As a leading provider of Sharia-compliant financial solutions in Egypt, how will ADIB Egypt assist companies looking to raise capital through sukuk issuance?
MA: Sukuk provide organizations with additional diversity and depth of funding alongside other means of fixed income financing instruments. Sukuk also pave the way for dual issuance, on the Egyptian as well as international exchanges, enabling issuers to reach out to fixed income investors and access global funding, provided they meet remaining requirements.
ADIB-Egypt will:
Advising on suitable structure.
Marketing Sukuk locally and regionally.
Preparing documents, and oversight issuance processed.
Sponsored by: