RISKY VISION
By Rebecca Brace
Global Finance surveyed Who's Who honorees about the issues that keep them awake at night.
Risk was the overriding theme of the 2012 Global Finance Who's Who in Treasury & Cash Management Survey. In the current uncertain environment it should come as little surprise that over half of respondents identified counterparty risk as a most critical concern, particularly bank exposures. "We've been watching what's been happening with the banks carefully—both at a global level but also in Europe specifically," comments Helen Shan, VP finance and treasurer at Pitney Bowes.
Jim Gifas, EVP and head of treasury solutions at RBS Citizens, adds: "Every region has its own struggle—some similar, some different—and there is counterparty risk across the board, which is something that many treasurers were complacent about in the past."
Other types of risk that also featured prominently include foreign exchange, supply chain, political risk and regulatory reform. Money market fund reforms are a key concern for US treasurers, notes James Gilligan of Great Plains Energy's corporate treasury. The main reforms on the table for MMFs include a move to floating net asset value (NAV), limiting redemptions and higher capital requirements. "I am very concerned that those rules, if implemented, especially the floating NAV, would basically kill the money market fund product for investors," Gilligan says. "This will have a big impact on my corporation, because we are a net borrower and we're dependent on the commercial paper market in the US, of which the biggest buyers are money market funds."
The European debt crisis also featured highly. Over half of respondents identified this as a most critical issue. Chris Foskett, head of treasury services sales at J.P. Morgan, notes: "A year on, the questions of where to place cash and improve visibility are far more heightened for corporate treasurers."
"The situation has been fluid and has caused us to be more proactive in how we manage our cash balances around the world," adds Shan. "Given the uncertainty surrounding Greece or others leaving the euro, no one wants to have funds potentially stranded in that situation."
Respondents were asked how their assessment of risk has changed in the past two years. Some indicated that their strategies had become more focused in that time, while others felt the actions they took in 2008 to bolster risk management have proved sufficient. As Eduardo Lepori, CFO of DHL Express Chile, concludes: "There have been changes in terms of increased availability of risk management instruments, on the one hand, and higher market volatility, on the other. But risk management is part of treasury activity, and a good treasurer always has to focus on these risks.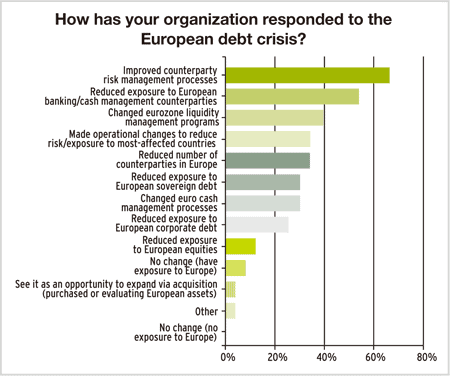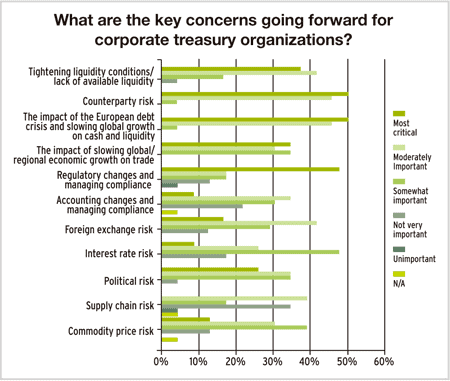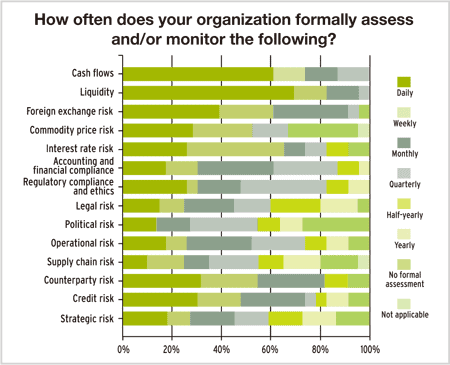 TREASURY & CASH MANAGEMENT 2012