LONG-TERM DEPENDABILITY
By Kathryn Tully
The overall winning bank and many of the regional category winners for foreign exchange have remained consistently strong for over a decade.
Deutsche Bank has been the magazine's global winner for foreign exchange eight times since the awards began in 2001. It is the world's biggest foreign exchange bank by market share, a position it works hard to defend, and it has exploited the euro's volatility recently to expand its foreign exchange business in Western Europe, where it already dominates. Its global onshore presence and its commitment to providing liquidity in emerging markets currencies make for a strong suit.
Citi, Deutsche's archrival in foreign exchange, is the global runner-up, having won the top award five times. The bank has long been dominant in both North America and Latin America, but it has also secured the most wins in the country-by-country awards over the years, followed by UniCredit, Scotiabank, BNP Paribas and HSBC.
HSBC is the overall winner for Asia-Pacific, winning for eight years since 2001, although since 2010, the regional award has gone to Standard Chartered. DBS Bank has also enjoyed long-standing dominance in Southeast Asia, as has UniCredit in Central and Eastern Europe.
For foreign exchange research and analysis, BNY Mellon has consistently placed top in the most categories, while State Street and FXall are the top bank and independent online FX trading systems, respectively.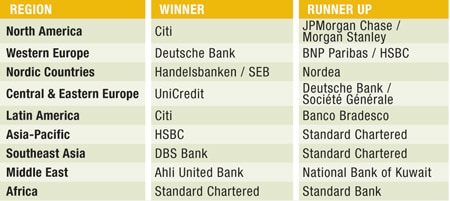 FX SUPPLEMENT 2012: WINNERS' CIRCLE: FOREIGN EXCHANGE